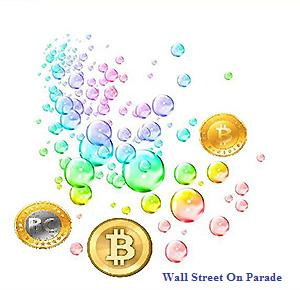 Coming off the greatest financial collapse in modern history because of unregulated derivatives backed by dodgy collateral, it is more than a little disconcerting that we are now forced to use our digital ink to explain the pitfalls of investing in a digital currency backed by air.
There seems to be a mass hypnosis at work. For example, last evening, at 6:47 p.m., the wire service Reuters explained Bitcoin to its readers as follows:
"Unlike traditional currencies, where a central bank decides how much money to print based on goals like controlling inflation, no central authority governs the supply of bitcoins. Like other commodities and currencies, its value depends on people's confidence in it."
The last sentence of the Reuters statement was likely penned by someone who has never traded commodities or registered with the Commodity Futures Trading Commission. Bitcoin is decidedly not like other traded commodities. Corn, sugar, gasoline are tangible things. You can readily check that their trading value is hinged to reality by checking their price in the grocery store each day or, in the case of gasoline, at the pump. A Bitcoin, on the other hand, has no tangible commodity backing it. Its value is whatever some self-created website says it is.
According to news agency AFP, just before the MtGox Bitcoin website shuttered its operations yesterday, a Bitcoin was trading for $130. On other Bitcoin websites it was trading for around $500.

Read More...