A state of emergency has been declared around Charlottesville, Virginia, amid clashes between "Unite the Right" white nationalist demonstrators and "counterprotesters," including the presence of Antifa.
Gov. Terry McAullife declared a state of emergency shortly before 11 a.m. ET, moments before the rally was scheduled to begin at noon at Emancipation Park in Charlottesville, according to a tweet sent from the Democratic governor's Twitter account. Using megaphones, police declared an unlawful assembly at about 11:40 a.m., and gave a five-minute warning to leave Emancipation Park, where hundreds of neoNazis, Ku Klux Klans members and other white nationalists had gathered to protest the removal of a Confederate statue. They were met by equal numbers of "counterprotesters," including Black Lives Matter activists and Princeton professor Cornel West. Both the city of Charlottesville and the Albemarle County have declared a local state of emergency, the Richmond Times-Dispatch reported.
**This is a developing story and will be updated** (all times eastern) ***
10:50:
10:40: Suspect's mother tells the AP that her son said he had gotten some time off from work and was going to a rally:
Samantha Bloom, of Ohio, confirmed details about her son's car and his trip to Virginia, saying she received a text from him last week that said he'd gotten some time off from work and was going to a rally.

She said her son hadn't given her any details about the rally but that she told him "to be careful" and to peaceful.
10:30:
10:25:
10:20: We'll see.
10:10:
9:55:
9:50:
9:20: Indivisible groups organizing:
Tonight and tomorrow, Indivisible groups, along with our friends at Women's March, Democracy for America, Working Families Party, Resist Here, Progressive Change Campaign Committee, Mi Familia Vota, OurRevolution, Million Hoodies Movement for Justice, People's Action, Courage Campaign, Greenpeace, #AllOfUs, #Resist, 350.org, OFA, United We Dream, Win Without War and others will come together in solidarity with our brave friends in Charlottesville who put themselves at risk to fight against white supremacy.
Attend an event in your community to show that you're standing with Charlottesville.
9:10: Never a bad time for these people to talk about… gun control.
9:05:
9:00:
8:50:
8:35: Breitbart News reporters on the ground report that pretty much the entire downtown mall and "corner" area are closed for business tonight.
8:15:
7:55: Always the same people:
7:45:
7:30: On MSNBC, Rob Reiner calls out Jared Kushner for not condemning the white supremacists.
7:00:
6:58: Watch Breitbart's Raheem Kassam question Gov. McAuliffe about Antifa.
6:55: Read Breitbart's Jerome Hudson's story here: Celebrities Blame Trump for Violence in Charlottesville: 'His Silence Condones This'
6:42: CHARLOTTESVILLE–Breitbart News asked McAuliffe to condemn the Antifa radicals and did not respond. See video here
6:41:
6:40:
6:35: "Menace II Supremacy"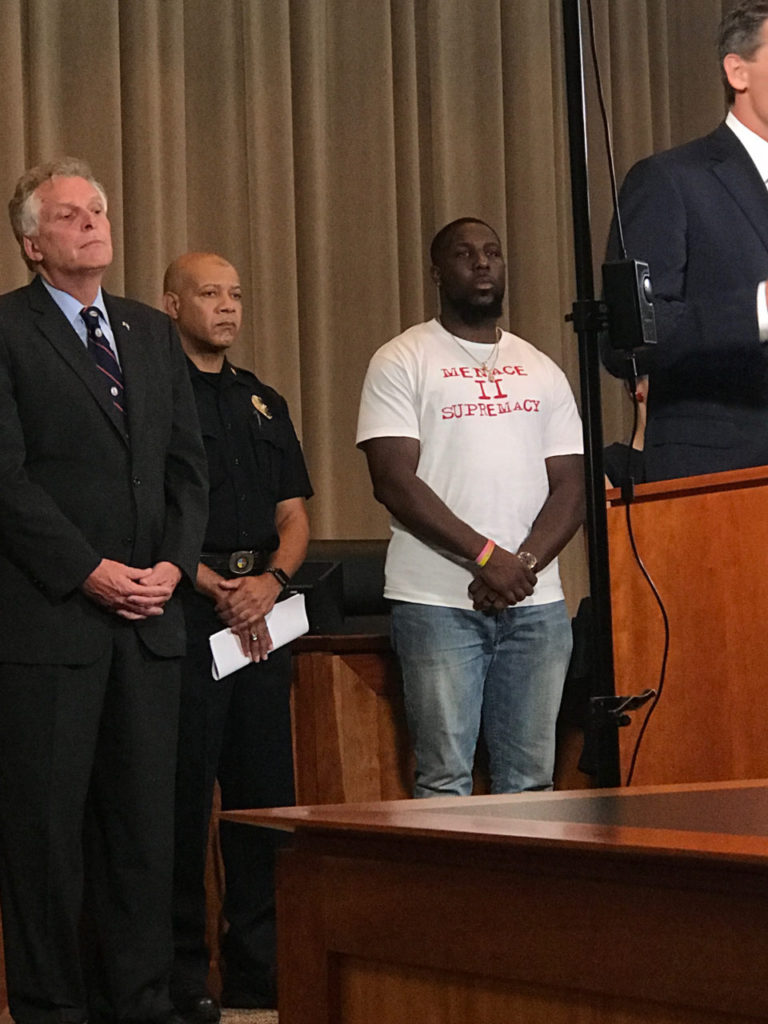 6:26: McAuliffe said he spoke to Trump earlier and said they need to work together to "bring people together. 6:25:
6:22: WATCH: McAuliffe press conference on Breitbart News's Facebook Live
6:15:
6:00: Breitbart News on the Ground Inside Albemarle County Office Building for press conference. Breitbart News will be streaming on Facebook Live: https://www.facebook.com/Breitbart/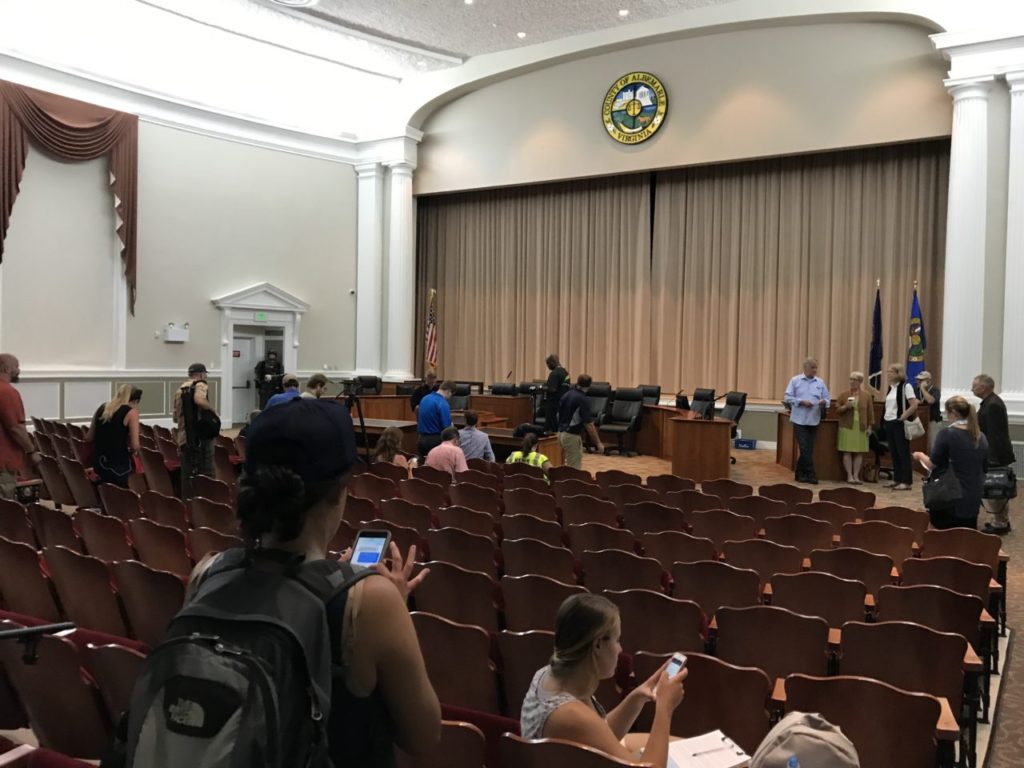 5:30:
5:15:
5:00: From Breitbart News reporters on the ground: Virginia Gov. Terry McAuliffe arriving: video here
4:57: Are the legacy media folks tweeting from New York and D.C. there like this reporter on the ground?
4:55:
4:51: From Breitbart News Reporters on the Ground in Charlottesville: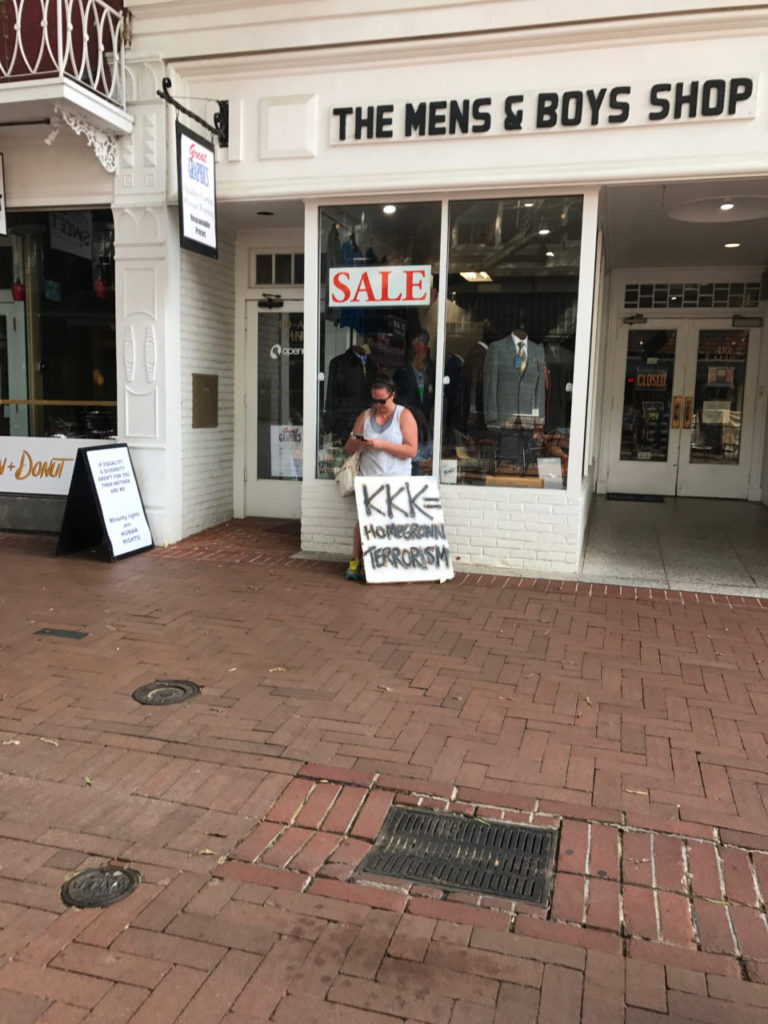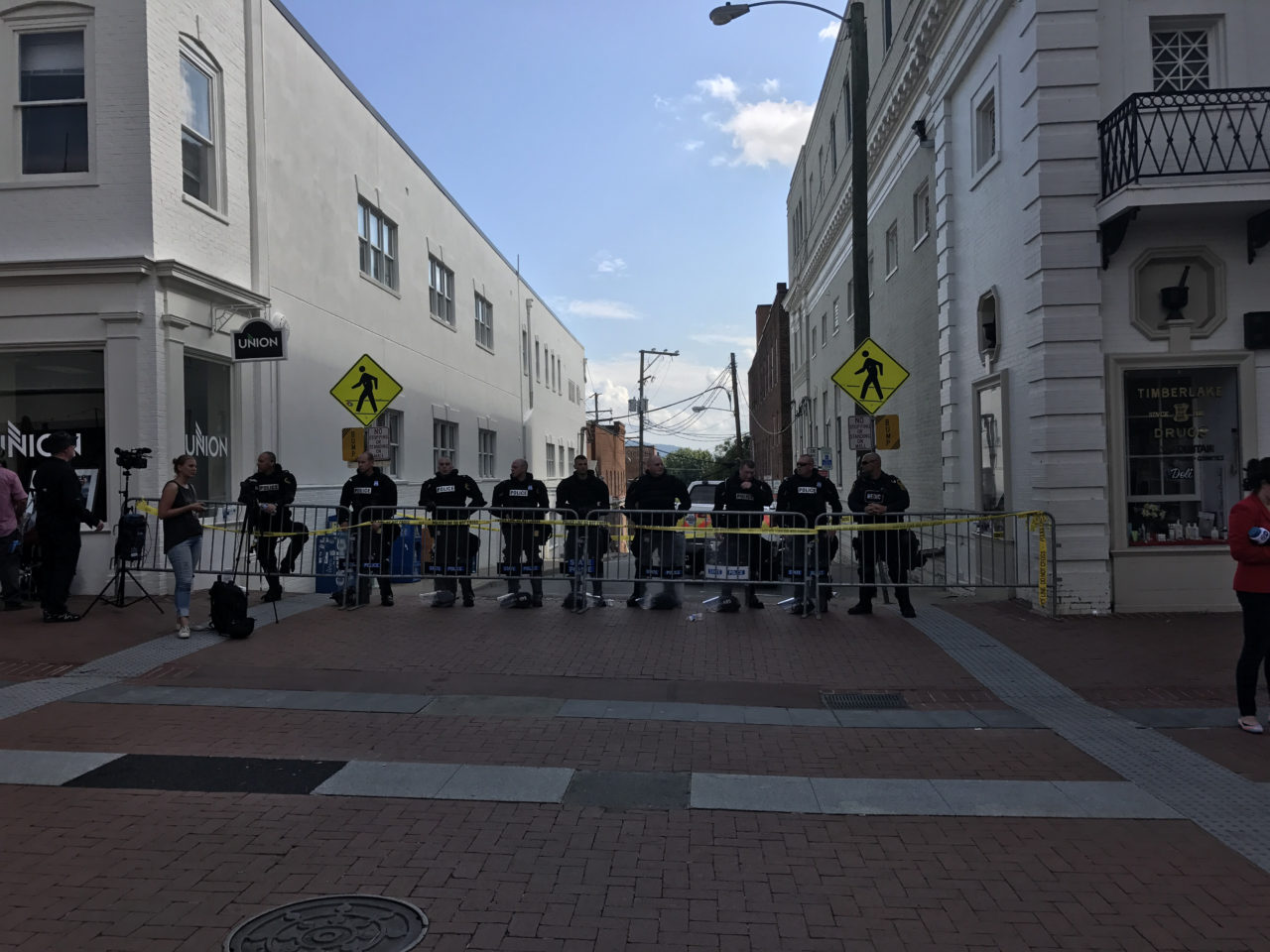 4:45:
4:43: See tweets below about media giving fringe groups oxygen:
4:35: Thought we weren't allowed to use the word "force" no longer:
4:32: Why is Jeb! tweeting so late on this?
4:31:
4:29: How many consultants did it take to craft this for her?
4:25:
4:20:
4:10: Makes you wonder about how legacy media are covering along with their typical band of "Never Trump" useful idiots who seek head-pat after head-pat.
4:05 PM:
4:02 PM: UPDATE from UVA Hospital:
4:00 PM:
3:54 PM:
3:53: File these instantaneous tweets away:
3:47: SAY WHAT?
3:45: Interesting immediate commentary from Chuck Todd. Why does he think Trump's statement may have "done the opposite … ?
3:43: Joe Biden:
3:41 PM:
3:40: Attorney Gen. Jeff Sessions' statement:
3:38 PM: President Trump condemns the "egregious" acts of hate and violence on all sides and calls for a "swift" restoration of law and order. Trump says we are all Americans first and we love our God, country, our flag, and who we are. Trump says we need to get this situation "straightened out" and need to "study it" to see what is going wrong.
3:35 PM: Charlottesville mayor reports one person has died:
3:33 PM: Driver arrested:
3:32 PM:
3:30 PM:
3:29 PM: Trump getting ready to speak from Bedminster:
3:27 PM: Why do legacy media networks put this ticking time bomb on the air? Rick "put a bullet in Trump" Wilson also asked whether Trump pays Coulter more for "anal."
3:25: Right On, Ms. Coulter:
3:20 PM:
3:15 PM: Interesting observation from Jack Shafer:
3 p.m. ET – It appears the "counterprotesters" have now turned on the police:
2:45 p.m. ET – Celebrities also use the opportunity to bash Trump. According to Gossip Cop:
Alyssa Milano, who deemed Friday night's protest an example of "Trump's America." Mark Ruffalo cracked, "Got the ole fashioned Nazi feeling don't it?" Katie Couric called it "a chilling scene." And Piper Perabo told followers, "I just donated to @naacp & Charlottesville Pride @cvillepride. I am outraged at what happened last night. Counter protest march link below." Andy Richter ripped the participants as "human race traitors," while Rosie O'Donnell said it was evidence of "THE TRUMP EFFECT." She added, "#25thAmendmentNow #stopTRUMP." Debra Messing retweeted the activist DeRay McKesson, who argued, "If black folks were carrying torches on a college campus right now the administration would've already called the National Guard." Kristen Bell replied to him, "Sad and true." Chelsea Clinton took note of a tweet that said of the white protesters, "Imagine if these people ever faced actual oppression." She added to it, "This. All of this." In response to some of the chants, Jeremy Piven quipped, "That sounds reasonable … oh wait."
2:15 p.m. ET – The Associated Press is reporting that a vehicle plowed into a crowd, with at least one person on the ground receiving medical treatment after the incident. A video of a car crash has emerged, though it's not immediately clear if it's the same incident (language NSFW):
2:05 p.m. ET – Laura Ingraham points out that media is finding a convenient scapegoat to bash President Trump:
1:55 p.m. ET – More journalists and activists trying to use the opportunity to tie the Trump campaign/administration to white supremacists:
1:40 p.m. ET – RICHARD PAINTER, an official at the left-wing CREW that Media Matters' David Brock headed until recently, is referred to by every outlet as "George W. Bush's former ethics lawyer, to allow himself to be used as their useful idiot. Painter, on cue, Breitbart News:
1:35 p.m. ET – Vice President Pence also condemns the violence:
1:30 p.m. ET – President Trump condemns the violence in Charlottesville:
1:20 p.m. ET – Michael Moore and Democratic house leadership also chime in:
1:10 p.m. ET – Some reactions from Twitter, predictably smearing President Trump and his advisers:
1 p.m. ET – According to the Washington Post, the scheduled noon rally never took place as fighting started Friday night and then continued Saturday morning. The Post reported:
Men in combat gear, some wearing bicycle and motorcycle helmets and carrying clubs and sticks and makeshift shields fought each other in the downtown streets, with little apparent police interference. Both sides sprayed each other with chemical irritants and plastic bottles were hurled through the air. A large contingent of Charlottesville and Virginia state police in riot gear were stationed on side streets and at nearby barricades but did nothing to break up the melee. A group of three dozen self-described "militia" – men who were wearing full camouflage and were armed with long guns – said they were there to help keep the peace, but they also did not break up the fights.
12:50 p.m. ET – First Lady Melania Trump urges the violence to stop: