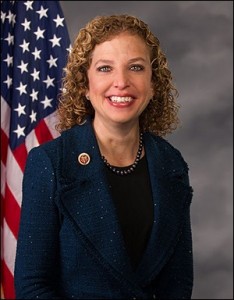 Former DNC Chair Debbie Wasserman Schultz
Democratic primary voters in South Florida's 23rd Congressional District ignored the Democratic National Committee scandal that has engulfed Debbie Wasserman Schultz and gave the incumbent a 56.46 percent win over her Democratic challenger, Tim Canova, who claimed 43.54 percent of the vote. Unfortunately for Canova, who had the backing of Senator Bernie Sanders and his supporters, Independents were not allowed to vote in this closed primary.
Wasserman Schultz will still have to compete against a Republican rival, Joe Kaufman, in the November 8 general election. Her District is heavily Democratic, however, and she is expected to achieve an easy win – unless new scandals arrive between now and election day.
Canova is a law professor at Nova Southeastern University. This was his first endeavor in running for public office. His strong showing in this race and his ability to raise $3.3 million from predominantly small donors around the country suggests that voters have not heard the last from Tim Canova.
Fundraising data at the Center for Responsive Politics shows that Wasserman Schultz's main campaign committee raised a similar $3,373,950 but her Leadership PAC spent an additional $1,193,571. According to Politico, the "super PAC Patriot Majority PAC also spent $640,000 to back her."
Unlike Canova, whose small donors constituted 75 percent of his fundraising total, only 23 percent of Wasserman Schultz's main campaign committee donors were small.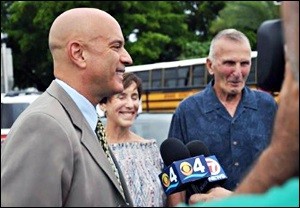 Tim Canova With His Beaming Parents at his Local Precinct on Primary Day, August 30, 2016
During the primary campaign, Canova had repeatedly challenged Wasserman Schultz on her ability to fairly represent the interests of her constituents when in her role as Chair of the DNC she has allowed the Wall Street takeover of the Democratic party. Campaign records for her primary campaign committee and/or her Leadership PAC show she was receiving large checks from many of the same Wall Street billionaire hedge fund or private equity titans as Hillary Clinton's committees and PACs: S. Donald Sussman of Paloma Partners, Paul Tudor Jones of Tudor Investments, and Haim Saban of Saban Capital to name just a few.