Source: FT
Related : Qatar bankrolls Syrian revolt with cash and arms
A short drive from the rising skyscrapers of Doha's West Bay, emblems of the once-sleepy Qatari capital's frenetic growth, the three-starred flag of the Syrian revolution can be seen fluttering over a modern villa guarded by police cars. The villa is the new Syrian Arab Republic embassy in Qatar, representing not the regime of Bashar al-Assad, but opponents fighting for his removal. It is the only such embassy in the world, inaugurated by a Qatari minister two months ago with the usual diplomatic pomp, after hard lobbying by Qatar led the 22-member Arab League to hand over Syria's seat to the opposition.
The diplomats working inside have recourse to neither a government nor a bureaucracy to serve Syrians abroad, lacking even the means to renew a passport. "Maybe soon," mutters a hopeful junior diplomat. But Qatar is not a country that allows details to get in the way of ambition.
The opening of the embassy was a theatrical expression of this small, massively rich country's single-minded lurch into
Syria's crisis
. When it comes to backing Syria's rebels, no one can claim more credit than the gas-rich Gulf state. Whether in terms of armaments or financial support for dissidents, diplomatic manoeuvring or lobbying, Qatar has been in the lead, readily disgorging its gas-generated wealth in the pursuit of the downfall of the House of Assad.
Yet, as the Arab world's bloodiest uprising grinds on into its third year, Qatar finds itself pulled into a complicated and fractured conflict, the outcome of which has a decreasing ability to influence, while simultaneously becoming a high-profile scapegoat for participants on both sides. Among the Syrian regime's numerous but fragmented opponents the small Gulf state evokes a surprisingly ambivalent – and often overtly hostile – response.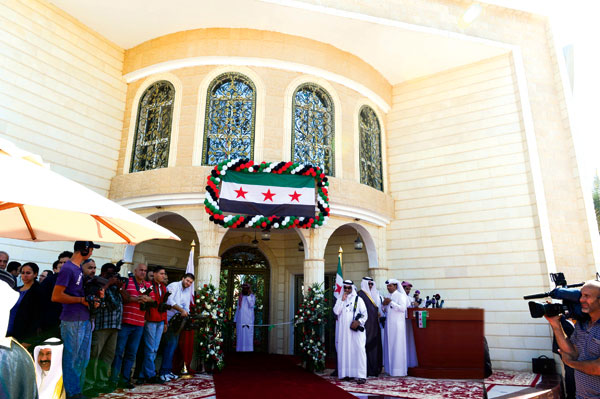 The opening of the Syrian Arab Republic embassy in Qatar, March 2013
In the shell-blasted areas of rebel-held Syria, few appear to be aware of the vast sums that Qatar has contributed – estimated by rebel and diplomatic sources to be about $1bn, but put by people close to the Qatar government at as much as $3bn. However, a perception is taking root among growing numbers of Syrians that Qatar is using its financial muscle to develop networks of loyalty among rebels and set the stage for influence in a post-Assad era. "Qatar has a lot of money and buys everything with money, and it can put its fingerprints on it," says a rebel officer from the northern province of Idlib interviewed by the FT.
Khalid al-Attiyah, Qatar's minister of state for foreign affairs, and the point man on Syria, dismisses this criticism as nothing more than noise. "We're a state, we're mature … If we were concerned about what people say, we wouldn't be here today and Qatar wouldn't be as prosperous." But Qatar's role in Syria seems uncharacteristically prominent for a country that lacks the diplomatic experience and traditional heavyweight status of a more discreet Saudi Arabia.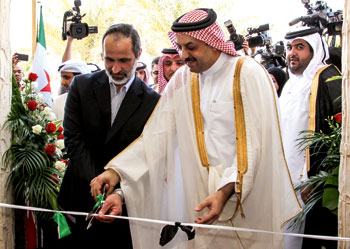 ©EPA/STRFormer Syrian coalition leader Moaz al-Khatib (left) and the Qatari minister for foreign affairs Khalid al-Attiyah opening the Syrian Arab Republic embassy in Qatar, March 2013
To some extent, the fact that Qatar is so exposed reflects the reluctance of western governments to intervene in Syria. However, for Qatar, Syria is also the culmination of an opportunistic foreign policy which saw Doha become the unlikely backer of other Arab revolts in north Africa – and a friend of those who emerge as winners, in most cases Islamists.
Qatar's ruling family, the al-Thanis, have no ideological or religious affinity with the Islamists – they are simply not choosy about the beliefs held by useful friends. Qatar has supported the Muslim Brotherhood in Egypt and Tunisia's Islamist al-Nahda party, which won the first elections after the popular revolts. Some politicians in the region believe the emir is trying to position himself as the "Islamist [Gamal] Abdel Nasser", as one Arab politician put it, referring to the late Egyptian president and the Arab world's only true pan-Arab leader.
Most of Doha's neighbours in the Gulf are hostile to the Islamist trend in the region, but this is of little consequence to a state that takes pleasure in being contrarian. Nor are the al-Thanis embarrassed by the contradictions of an autocracy cheerleading for revolution. "The Qataris say if there's a tsunami coming your way you ride it, not let it hit you," says a western diplomat describing Qatar's attitude towards Islamists.
It is this kind of dynamism and risk-taking at an executive level that has enabled Doha to act as a regional power only a few years after being a diplomatic nobody. But the military stalemate of the Syrian uprising, in which more than 70,000 people have died, has also revealed the recklessness and political impotence that ultimately undermine Qatar's objectives.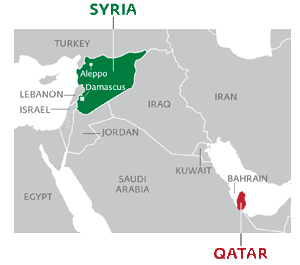 "The Qataris are overextended – their system runs on a few people at the top, and there isn't much in terms of a bureaucracy," comments another diplomat. In the case of Syria, those key players have been the emir, Sheikh Hamad bin Khalifa al-Thani, his son and crown prince, Sheikh Tamim bin Hamad, the prime minister Sheikh Hamad bin Jassim, plus Attiyah, the minister for foreign affairs.
As the Qataris have attempted to unite the political opposition by championing the formation of the Syrian National Coalition (the main front) they have been accused of dividing it – just as their efforts to shape a fragmented rebel army into a more coherent form by helping to unify the brigades under one command have contributed to its incoherence.
Not all of the criticism is fair. Partly it is driven by the irritation of many Arabs, at both state and street level, with what they see as an ambitious, nouveau riche state overreaching itself. "You can criticise them for hijacking the opposition but who else is helping?" acknowledges an independent-minded Syrian opposition member who, like many others in the region who were interviewed for this article, requested anonymity.
But the disapproval levelled at Qatar is pervasive. A senior rebel commander who has dealt with the Qataris suggests that Doha should look long and hard at why its role has also sparked so much animosity. "After two years it is time for everyone involved in Syria to review their actions and engage in self-correction," he says.