In the most cashless society on the planet, even God now accepts digital payments.
A growing number of Swedish parishes have started taking donations via mobile apps. Uppsala's 13th-century cathedral also accepts credit cards.
The churches' drive to keep up with the times is the latest sign of Sweden's rapid shift to a world without notes and coins. Most of the country's bank branches have stopped handling cash; some shops and museums now only accept plastic; and even Stockholm's homeless have started accepting cards as payment for their magazine. Go to a flea market, and the seller is more likely to ask to be paid via Sweden's popular Swish app than with cash.
"Fifteen years ago I would withdraw my entire salary and put it in my wallet, so I knew how much I had left, but these days I never really carry cash," said Lasse Svard, the acting vicar at the parish of Jarna-Vardinge, about 50 kilometers (31 miles) south of Stockholm.
Vanishing Act
Swedes' aversion to cash is increasingly showing up in money supply data. According to Statistics Sweden, notes and coins in public circulation dropped to an average of 56.8 billion kronor ($6.4 billion) in the first quarter of this year. That was the lowest level since 1990 and more than 40 percent below its 2007 peak with the pace of the decline accelerating to its fastest ever in 2016.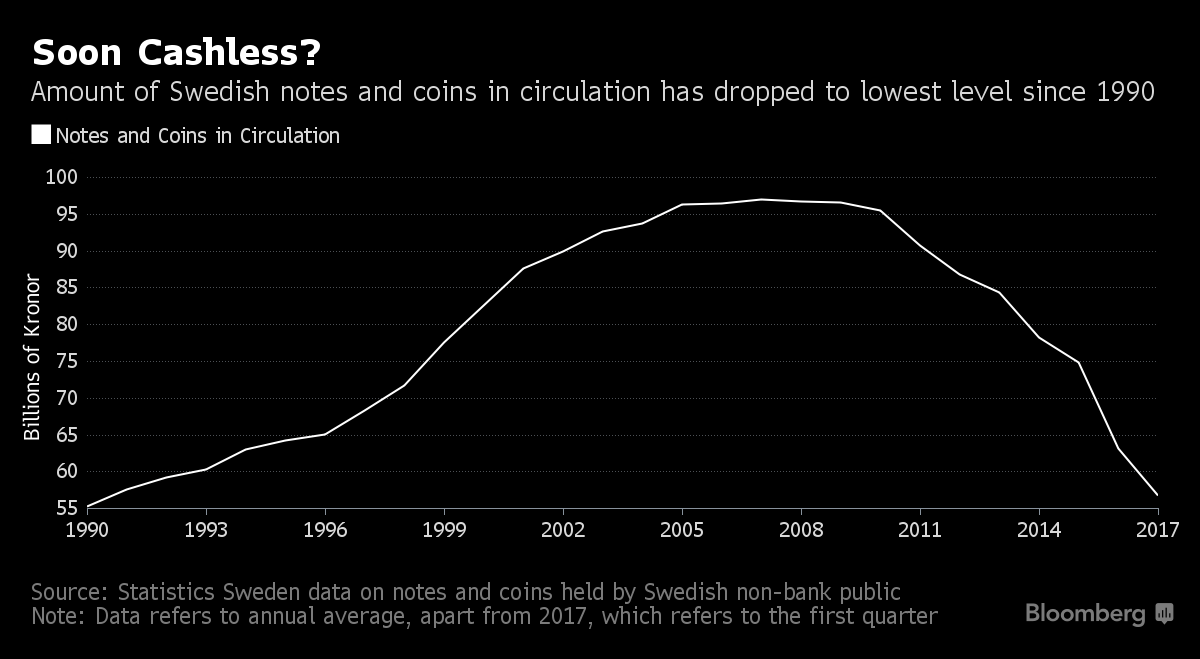 According to the central bank, which is also studying whether to launch its own digital currency, the main reason for the disappearing act is technical innovation.