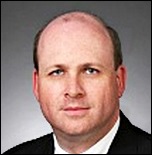 Marc Elias, Law Partner at Perkins Coie
Last evening, the Washington Post dropped a bombshell on the already discredited leadership of the Democratic National Committee (DNC) under its former Chair, Debbie Wasserman Schultz. The Post reported that Marc Elias, a law partner at the politically connected law firm Perkins Coie, retained the company, Fusion GPS, that compiled the infamous Russian Dossier on Donald Trump. The Post said he did so on behalf of the Hillary Clinton campaign and the DNC. (The current leadership of the DNC has stated that it had no knowledge of these actions.)
After the Washington Post story broke, New York Times reporters Ken Vogel and Maggie Haberman Tweeted that they had been lied to by those involved. Haberman Tweeted: "Folks involved in funding this lied about it, and with sanctimony, for a year." Vogel Tweeted: "When I tried to report this story, Clinton campaign lawyer @marceelias pushed back vigorously, saying 'You (or your sources) are wrong.'"
Elias is also the lawyer defending the class action lawsuit filed last year by Senator Bernie Sanders' supporters against Wasserman Schultz and the DNC. The lawsuit alleges fraud, negligent misrepresentation, deceptive conduct, unjust enrichment, breach of fiduciary duty, and negligence. The amended complaint indicates that more than 1,000 individuals have signed retainer agreements to serve as class representatives.
Emails leaked by Wikileaks in July of 2016 show Wasserman Schultz referring to Sanders' campaign manager, Jeff Weaver, as "an ass," "particularly scummy" and a "damn liar" as her staff conspired in emails to characterize Sanders as an atheist and his campaign a "mess." (Sanders has stated that he is not an atheist.) As these anti-Sanders emails were flying about, the DNC set up a joint fundraising account with Hillary Clinton, effectively functioning as if Clinton had no primary challenger, despite the fact that Sanders' rallies had thousands of supporters while Clinton's were embarrassingly small in contrast.
Wasserman Schultz and key DNC officials were clearly violating their own Charter.