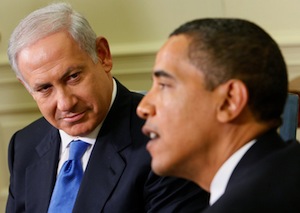 After failing to pressure the Obama administration to back a preventive Israeli strike on Iran before the US presidential elections, Netanyahu has continued to make veiled threats of war catered for different audiences.
In an interview with a French magazine, Netanyahu pushed back against the claim that an Israeli strike on Iran would destabilize the region and worsen tensions.
"Five minutes after, contrary to what the skeptics say, I think a feeling of relief would spread across the region," he said.
"Iran is not popular in the Arab world, far from it, and some governments in the region, as well as their citizens, have understood that a nuclear armed Iran would be dangerous for them, not just for Israel," he said.
But experts generally agree that such an attack would spark a regional war, embolden Iran, and in fact motivate Tehran to build a nuclear weapon, a decision they have not yet made and one that Netanyahu is right to say Arab governments don't want.