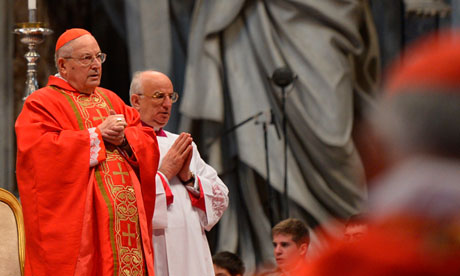 Roman Catholic cardinals have been urged to overcome divisions at a special mass ahead of the papal conclave, just hours after anti-mafia investigators carried out a string of raids in the diocese of the leading candidate.
In a homily before thousands of pilgrims and the most senior figures in the church, Angelo Sodano, the dean of the college of cardinals, made a last-ditch attempt to banish infighting, as he extolled the virtues of unity amid diversity.
But even as preparations for the mass were being made, Cardinal Angelo Scola, the archbishop of Milan – and reportedly the hot favourite to be the next pope – suffered a blow.
Anti-mafia detectives swooped on homes, offices, clinics and hospitals in Lombardy, the region around Milan, and elsewhere. A statement said the dawn raids were part of an investigation into "corruption linked to tenders by, and supplies to, hospitals".

Read More...