It's a cultural stereotype as old as the landline: teenagers love their phones.
But for North American teen girls, especially, increasing smartphone use could have a darker side. Depression and suicide rates in teenagers have jumped in the last decade—doubling between 2007 and 2015 for girls—and the trend suspiciously coincides with when smartphones became their constant companions. A recent study places their screen time around nine hours per day.
Another study, published on Tuesday, suggests that suicide and depression could be connected to the rise of smartphones, and increased screen time. Around 58 percent more girls reported depression symptoms in 2015 than in 2009, and suicide rates rose 65 percent. Smack in the middle of that window of time, smartphones gained market saturation. "Even if we call screen time a neutral and assume it doesn't help or hurt, it may still have a negative impact if it crowds out time for seeing friends in person," lead researcher Jean Twenge, psychology professor at San Diego State University, told me in an email. "The large and sudden increase in teen mental health deserves attention, no matter what its cause."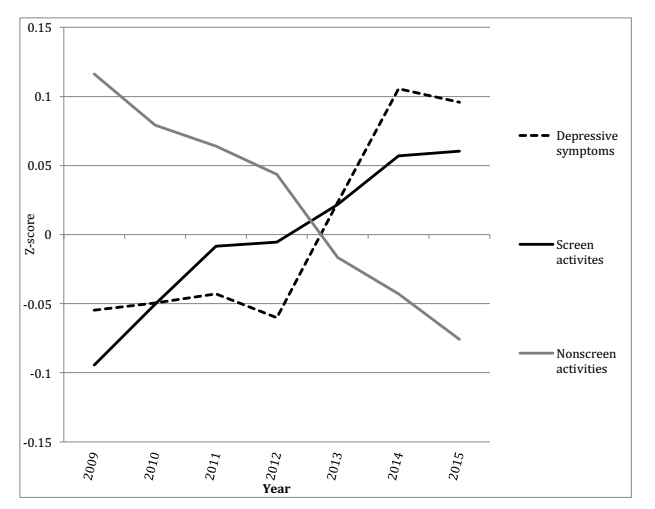 Trends in screen activities, non-screen activities, and depressive symptoms, 8th and 10th graders, Monitoring the Future (MtF), 2009-2015. Image: Jean M. Twenge
Still, other research suggests that using new media to communicate and connect doesn't hurt teenagers, and can maybe, in some cases, be good for them. Are screens, and especially smartphones, really killing teenagers?
In Twenge's new study, published in the journal Clinical Psychological Science, the researchers looked at two samples: a nationally representative survey by ongoing study "Monitoring the Future" out of the University of Michigan, which is administered annually to 8th, 10th, and 12th graders, and the Centers for Disease Control's Youth Risk Behavior Surveillance System, a sample of high school students administered by the CDC every other year. (Both surveys began in 1991.) Altogether, over 500,000 young people were included.
The study authors examined trends in how teens used social media, the internet, electronic devices (including gaming systems and tablets), and smartphones, as well as how much time they spent doing non-screen activities like homework, playing sports, or socializing.
Comparing these to publicly available data on mental health and suicide for these ages between 2010 and 2017 showed "a clear pattern linking screen activities with higher levels of depressive symptoms/suicide-related outcomes and non-screen activities with lower levels," the researchers wrote in the study. All activities involving screens were associated with higher levels of depression or suicide and suicidal thinking, and activities done away from a screen were not.