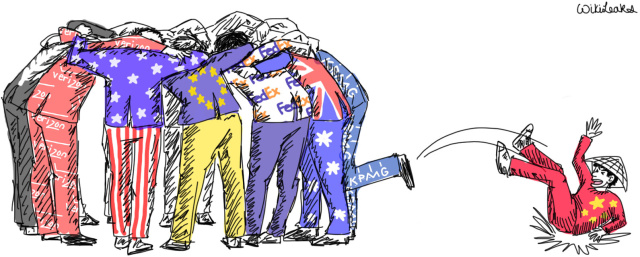 WikiLeaks has released 17 secret documents from the negotiations of the global Trade in Services Agreement (TISA), which have been taking place behind closed doors, largely unnoticed, since 2013. The main participants are the United States, the European Union, and 23 other countries including Turkey, Mexico, Canada, Australia, Pakistan, Taiwan and Israel, which together comprise two-thirds of global GDP.
Significantly, all the BRICS countries—Brazil, Russia, India, China, and South Africa—are absent, and are therefore unable to provide their perspective and input for what is essentially a deal designed by Western nations, for the benefit of Western corporations. According to the European Commission's dedicated page: "TiSA aims at opening up markets and improving rules in areas such as licensing, financial services, telecoms, e-commerce, maritime transport, and professionals moving abroad temporarily to provide services."
TISA's focus on services complements the two other global trade agreements currently being negotiated in secret: the Transatlantic Trade and Investment Partnership (TTIP), and the corresponding deal for the Pacific region, the Trans-Pacific Partnership (TPP), which deal with goods and investments. Like both TTIP and TPP, one of the central aims of TISA is to remove "barriers" to trade in services, and to impose a regulatory ratchet on participating nations. In the case of TISA, the ratchet ensures that services are deregulated and opened up to private companies around the world, and that once privatised, they cannot be re-nationalised.
The 17 documents released today include drafts and annexes on issues such as air traffic, maritime transport, professional services, e-commerce, delivery services, transparency, and domestic regulation, as well as several documents on the positions of negotiating parties. The annexe on e-commerce is likely to be of particular interest to Ars readers, since, if adopted, it would have a major impact on several extremely sensitive areas in the digital realm.