As part of the continued jostling over the contentious issue of the US intent to deliver foreign aid to Venezuela, which embattled president Nicolas Maduro has controversially banned — going so far as to post troops along potential border access points — opposition leader Juan Guaido announced on Monday that his team had received its first shipment of external humanitarian aid cargo, yet he didn't specify how it was received or which country or organization was the source.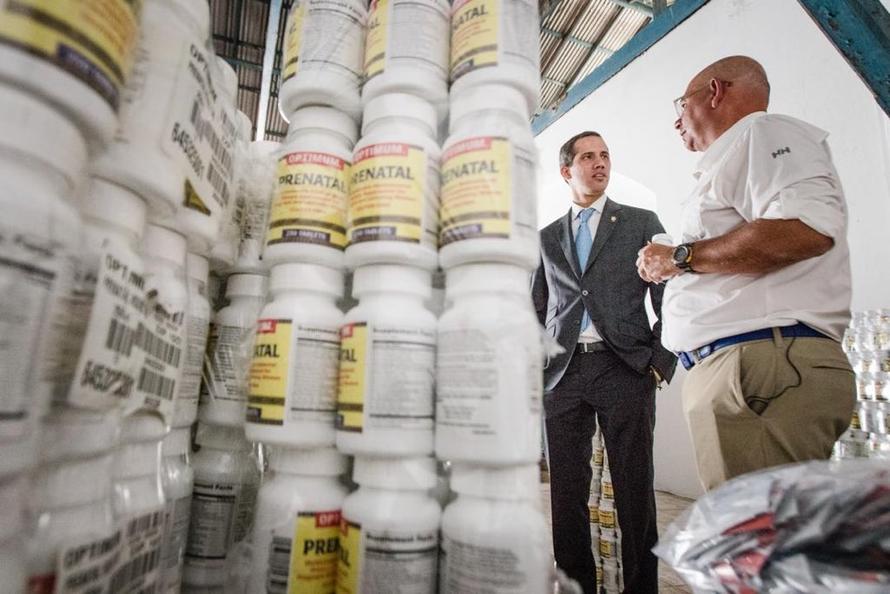 As self-declared and US-recognized "Interim President" Guaido further said he delivered it to opposition areas in an online statement included with a tweeted photo of himself standing amidst stacks of containers of vitamin and nutritional supplements. But given the timing, he appears to be signaling his previously stated intent to defy Maduro's blockade of such US aid entering the country.
In televised remarks in Caracas on Monday evening, also published to Twitter, Guaido said, "Today we delivered the first donation, or the first cargo of humanitarian aid, albeit on a small scale, because you know they have blocked the border for the time being."
Maduro, for his part, has repeatedly slammed the US aid efforts as a "political show" and as part of American-led efforts at facilitating a coup. Last week Venezuelan officials said authorities had seized of a large shipment of American weapons found in an airport container that were purportedly shipped from Miami, which they said further were bound for anti-Maduro "terrorist groups". Pro-Maduro officials have worried "humanitarian aid" will be used as a smokescreen for "financing terrorist groups that seek to undermine the peace of the people of Venezuela."
In recent weeks since large scale anti-Maduro protests began, there's been extremely tightened security at all ports of entry and customs checkpoints throughout the country, and as a military build-up ordered by Caracas continues along the the border with Colombia, considered a close ally of the United States and potential staging ground for US assets.
Guaido has personally appealed to the military to allow the aid in, while also issuing a general amnesty order for any military officer who defects from Maduro, something which the opposition currently doesn't have the power to enforce.
Reuters reports that US humanitarian supplies and cargo are currently amassing along a Colombian border town, but there doesn't appear to be confirmation that any of it has entered Venezuela:
Senior U.S. officials last week heralded their country's efforts to move aid to Venezuela's doorstep, after U.S. supplies were among those delivered to the first collection point established, in the Colombian border town of Cucuta.

There has been no sign of the aid that is being stockpiled in Cucuta leaving the warehouse.
Brazil is also reportedly being used as an aid transit point, however, Brazilian authorities have yet to comment on any specific shipping points.
Notably, just two days before Guaido announced his team is facilitating the transfer of humanitarian cargo a high ranking military doctor called on soldiers to resist orders to block US shipments and to instead facilitate its entry into the country.
Defected Colonel Rubén Paz Jimenez posted a short video to social media on Saturday declaring his support for US-backed opposition leader Juan Guaidó. "Ninety per cent of us in the armed forces are really unhappy," he said in the video message. "We are being used to keep them in power."
But so far military defections have not gained momentum, and it's widely agreed upon that the loyalty of the military to Maduro will be the deciding factor in whether or not he rides out the current storm of internal and external pressures.
Related Articles:
The International Red Cross has declined to participate in Washington's controversial humanitarian aid plan to Venezuela, it was announced this weekend. "We will not be participating in what is, for us, not humanitarian aid," stated Colombia's International Red Cross (ICRC) spokesperson, Christoph Harnisch.
The opposition in Venezuela will probably use access to that 'frozen' money to buy weapons and to create an army of mercenaries to fight a 'civil' war against the government and its followers. Like in Syria U.S. special forces or some CIA 'contractors' will be eager to help. The supply line for such a war would most likely run through Colombia. If, like 2011 in Syria, a war on the ground is planned it will likely begin in the cities near that border.
Venezuelan officials have announced the seizure of a large shipment of American weapons which they say were bound for anti-Maduro "terrorist groups". This comes following US national security advisor John Bolton's pledge to deliver "humanitarian aid" into the country, covertly if need be, despite embattled President Nicolas Maduro's vow to prevent such unauthorized shipments from entering.