Reuters reports that Venezuelan opposition leader Juan Guaido has hired Cleary Gottlieb, a Washington law firm skilled in debt negotiations, to help him on the path he hopes will bring him to power.
The most immediate task for a potential restructuring is protecting Citgo, a U.S. refiner owned by PDVSA [Venezuela's state-owned oil company]. The opposition last week made a $71 million interest payment on bonds backed by shares in Citgo, but other creditors could still try to seize the company to collect on unpaid debt.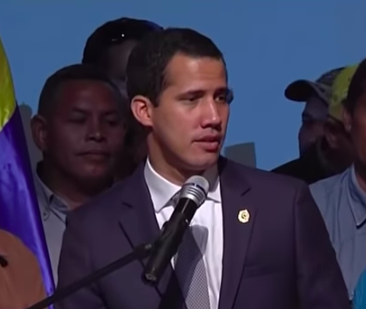 Oil is at the heart of the power struggle over Venezuela's future.
Guaido, recognized as president by the United States and 50 other countries (though that number is soft), is seeking leverage to oust incumbent Nicholas Maduro. His socialist government is recognized by Russia, China, Mexico, and 100 other countries.
After the embarrassing failureof his April 30 uprising, Guaido is quietly trying a new tactic: oil politics.
Watch for veteran debt lawyer Lee Buchheit to help restructure the country's more than $150 billion debt burden. It sounds like he is going to ask CITGO investors to take a loss on their investment, a financial haircut.
In late October, Buchheit co-authored the paper arguing that Venezuela would be a candidate to benefit from a potential U.S. executive order protecting its assets from seizure by creditors. That could facilitate an "orderly resolution" that would to the negotiating table even debtholders reluctant to accept losses on their holdings, he wrote.
If President Trump issues such executive order, who would benefit?
Its not clear. While Secretary of State Mike Pompeo has had harsh words for the Maduro government, he hasn't said anything about the U.S. oil companies still operating in Venezuela.
Steve Mufson of the Washington Post reported in January that Chevron other U.S. oil companies, were continuing to do business without interference from the Maduro government. Under U.S. sanctions, those companies have until July 27 to stop operations.
The Post noted this key point about Guaido's potential presidency.
Anticipating a new leader, members of Venezuela's National Assembly have drafted a new oil law that would allow much greater investment by foreign companies, said Pedro Burelli, a consultant and onetime director of the Venezuelan national oil company.

He said it would take regulatory power away from PDVSA and transfer that to a new agency, opening up Venezuela's oil riches to international entities.

"It is very, very pro-foreign investment," he said.
Read between the lines and you can glimpse Guaido's agenda: CITGO bondholders get shaved and Big Oil gets access to some of the biggest petroleum reserves on the planet.
Source: Venezuela opposition hires veteran lawyer Buchheit to help restructure debt – Reuters