As we predicted the Libyan war 2.0 has spilled into the Mediterranean and now standings on the brink of becoming a major renewed international proxy conflict bringing in regional powers, especially Turkey, Egypt, and potentially Russia.
The pro-Haftar Libyan National Army (LNA), based in the war-torn country's east, announced late Saturday it seized a Turkish vessel and briefly detained several Turkish crew members while the freighter was searched for weapons. "A vessel under the flag of Grenada, with a team of Turkish citizens on board, was detained," the LNA press service said. It was seized "because it entered Libya's territorial waters without prior permission," the LNA spokesman added.
As of early Monday, the ship and its crew were released, according to the AP, amid soaring tensions over a controversial maritime border deal involving Tripoli and Ankara, which both gives Turkey oil and gas exploration rights in waters claimed by Haftar's Benghazi-based administration, and expands military cooperation between Erdogan and the Tripoli GNA government.
It's not the first time the rebel LNA has seized Turkish vessels and their crew and it likely won't be the last, given Haftar has attempted to enforce a No Fly Zone and has long vowed to seize any Turkish vessels off the coast, given Turkey is militarily backing the UN-recognized government in Tripoli.
Turkey's leaders suggest Ankara is currently upping its support to the GNA, sending military planes with troops and armor amid Haftar's offensive against the capital. Undoubtedly, Turkey has been the most aggressive backer of Tripoli, offering military equipment and even air power, while the UAE has provided most weaponry for Haftar's army, also with assistance Egypt, Saudia Arabia and even Russia (namely, via mercenaries allegedly with the Wagner group).
On Saturday Turkish parliament formally ratified the security and military cooperation deal with Tripoli.
According to Al Jazeera, this has raised eyebrows in Moscow, which is among a growing chorus of countries condemning Turkey's deeper intervention in the conflict:
Turkish President Recep Tayyip Erdogan has said Turkey could deploy troops to Libya in support of the GNA but no request has yet been made. He said on Friday that Turkey could not remain silent over Russian-backed mercenaries backing Haftar's forces.

Russia, meanwhile, said it was very concerned about the possibility of Turkey deploying troops in Libya and that the security deal raised many questions for Moscow.

Erdogan will discuss Ankara's potential troop deployment to Libya with Russian President Vladimir Putin during talks in Turkey next month, the Kremlin said on Tuesday.
Meanwhile, while Washington officially recognizes the GNA, the Trump administration has for months verbalized support for Haftar, long seen as the 'CIA's man in Libya'. "Haftar is nothing but a pirate," Erdogan said earlier this year after six Turkish sailors were briefly detained by pro-Haftar forces.
And this latest weekend Turkish freighter incident will likely only increase the Turkish military presence, also as Turkey could be set to explore Libyan waters as part of the recent oil and gas deal with the GNA.
Last week reports in regional media said Turkey is set to establish a military base in Libya, which includes a special "quick reaction force" which can deploy rapidly if requested by the Libyan government.
Addressing the controversial deal in statements made last week President Erdogan told a pro-government news channel, "We will be defending the rights of Libya and Turkey in the Eastern Mediterranean." This after unconfirmed reports in Arabic media that Turkish special forces have already landed in Tripoli.
And crucially for the prospect of a broader war, neighboring Egypt has condemned the Turkey-Tripoli GNA deal as "illegitimate" and has even signaled its own military intervention could come.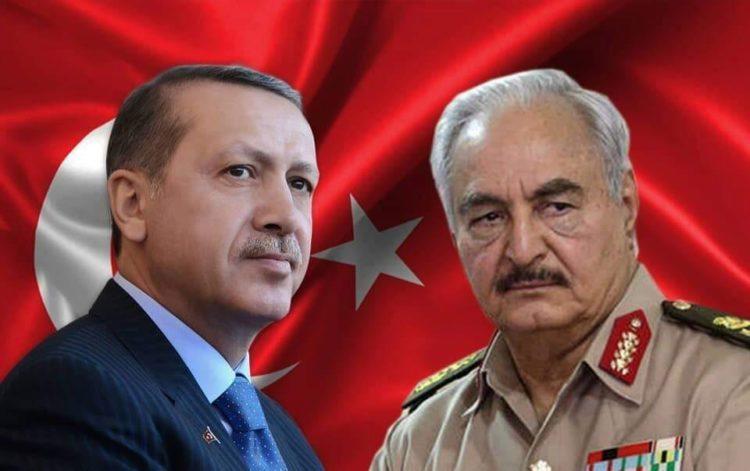 Last Tuesday Egyptian President Abdel Fattah el-Sisi warned in the wake of the Turkey-Libya agreement, "We will not allow anyone to control Libya... it is a matter of Egyptian national security."
So there it is: a multi-party conflict is emerging as Benghazi and Tripoli continue their years-long battle for the spoils of post-Gaddafi Libya supposedly "liberated" by NATO in 2011. This pits Egypt against Turkey, and Turkey against Russia — not to mention Greece against Turkey and Haftar, as Athens is already seeking to block Turkish oil and gas vessels from encroaching in southern Mediterranean waters.