The U.S. Department of Homeland Security (DHS) on Feb. 7 declared a heightened terrorism threat due to "false and misleading narratives," misinformation, and "conspiracy theories."
"The United States remains in a heightened threat environment fueled by several factors, including an online environment filled with false or misleading narratives and conspiracy theories, and other forms of mis- dis- and mal-information introduced and/or amplified by foreign and domestic threat actors," the DHS bulletin said.
The agency did not say what foreign or domestic actors are responsible for the alleged proliferation of misinformation or disinformation.
"Mass casualty attacks and other acts of targeted violence conducted by lone offenders and small groups acting in furtherance of ideological beliefs and/or personal grievances pose an ongoing threat to the nation," the DHS continued, adding that some individuals are seeking to "sow discord or undermine public trust in U.S. government institutions."
Some individuals, the bulletin alleged, are calling for violence against critical infrastructure, faith-based institutions like churches or synagogues, colleges, government personnel or facilities, and other targets.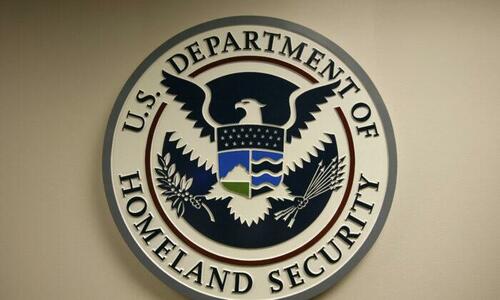 As an example of key factors that allegedly contribute to the heightened threat environment, the DHS said there are misleading narratives surrounding COVID-19 and claimed that some individuals have used COVID-19 mandates or vaccines to carry out attacks since 2020.
The agency did not elaborate or provide additional evidence for its allegations.
The DHS also listed online claims of election fraud as a contributor, and it also did not provide additional details or evidence.
The agency said that "foreign terrorist organizations and domestic threat actors continue to amplify pre-existing false or misleading narratives online to sow discord and undermine public trust in government institutions. It said violent extremists, including the individual who recently launched an attack against the synagogue in Texas, highlight "the continuing threat of violence based upon racial or religious motivations, as well as threats against faith-based organizations."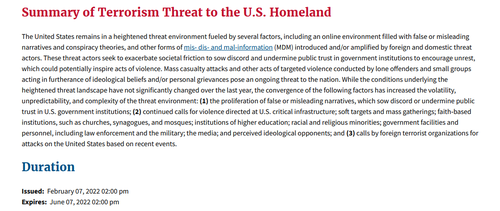 The ISIS terrorist group and its affiliates "may issue public calls for retaliation due to the strike that recently killed ISIS leader Abu Ibrahim al-Hashimi al-Qurayshi," the bulletin said. The Biden administration announced last week that al-Qurayshi was killed during a raid in northern Syria.
The bulletin also made note of alleged recent threats to black colleges and universities across the United States.
"Domestic violent extremists have also viewed attacks against U.S. critical infrastructure as a means to create chaos and advance ideological goals, and have recently aspired to disrupt U.S. electric and communications critical infrastructure, including by spreading false or misleading narratives about 5G cellular technology," the bulletin continued.
The DHS said the heightened threat alert will expire on June 7, 2022.
PLEASE DISABLE AD BLOCKER TO VIEW DISQUS COMMENTS
Ad Blocking software disables some of the functionality of our website, including our comments section for some browsers.