European Commission chief Ursula von der Leyen confirmed the Nord Stream pipeline system leaks were caused by "sabotage," and warned of the "strongest possible response" should active European energy infrastructure be attacked.
Spoke to @Statsmin Frederiksen on the sabotage action #Nordstream.

Paramount to now investigate the incidents, get full clarity on events & why.

Any deliberate disruption of active European energy infrastructure is unacceptable & will lead to the strongest possible response.

— Ursula von der Leyen (@vonderleyen) September 27, 2022
Earlier, Danish Prime Minister Mette Frederiksen described the three separate leaks on NS1 and NS2 as "deliberate acts," adding: "It's hard to imagine that it's accidental."
On Monday, Swedish seismologists reported the detection of underwater explosions - shortly after which large patches of roiling gas could be seen on the surface in the same area.
As rumors swirl over who is responsible for the incident, one message it sent was clear - vital systems are vulnerable to attack.
"The most important message that somebody wants to send, is what one is capable of doing with an offline pipeline can also be done with active pipelines, or undersea cables, or other infrastructure," said Julian Pawlak, a researcher at the German Institute for Defense and Strategic Studies, in a statement to the NY Times.
In response, Denmark and Norway announced increased security around their energy infrastructure, and Norway, now Europe's most important producer of gas and oil, called for "increased vigilance by all operators and vessel owners." In a statement, Norway's energy minister, Terje Aasland, cited "reports of increased drone activity" around its coast, and said that much of what he had learned of the Nord Stream incidents "indicates acts of sabotage." -NY Times
And while Poland's former Defense Minister appeared to thank the United States for the attack (a perfectly good explanation for which we're sure is will be offered), Poland's PM, Mateusz Morawiecki, laid the blame on Russia for targeting the pipelines - suggesting that the attack was an attempt to escalate the Ukraine conflict.
"We do not know the details of what happened yet, but we can clearly see that it is an act of sabotage," said Morawiecki, adding "An act that probably marks the next stage in the escalation of this situation in Ukraine."
* * *
Update (1445ET):
German magazine Spiegel said the US Central Intelligence Agency (CIA) recently warned Berlin about the increasing signs of a possible planned attack on the Nord Stream pipeline system.
Spiegel reported, citing unnamed sources, that the CIA tipped off Berlin in the summer about possible attacks on NS1 and NS2.
CIA warned Germany weeks ago of coming attack on natural gas pipelines Nord Stream I & II (from Russia to Germany), reports Der Spiegel.

Russia could have pulled off such an attack but "It is difficult to see whether Russia or Ukraine could have an interest in such an incident" pic.twitter.com/7jZWvYdhgI

— Michael Shellenberger (@ShellenbergerMD) September 27, 2022
"From Ukraine's point of view, the permanent interruption of gas supplies from Russia to Germany would be a possible interest in the room. On the contrary, there would be immense political disadvantages that could arise from an attack." pic.twitter.com/qziRb1gFUF

— Michael Shellenberger (@ShellenbergerMD) September 27, 2022
* * *
Update (1415 ET):
Prime Minister of Denmark Mette Frederiksen told reporters Nord Stream pipeline system damage to NS1 and NS2 "are deliberate actions, not an accident."
"It is now the clear assessment by authorities that these are deliberate actions. It was not an accident.

"There is no information yet to indicate who may be behind this action, Frederiksen said, adding that authorities don't see NS1 and NS2 damage as a military threat against Denmark.
Danish gov speaking live now on Nord Stream leaks.

PM Mette Frederiksen "These are deliberate actions, not an accident." pic.twitter.com/UMw4MOUgc9

— Carl Fridh Kleberg (@FridhKleberg) September 27, 2022
* * *
Update (1215ET):
CNN's White House and national security reporter Natasha Bertrand said the Biden administration "is not going to speculate on the cause" of the Nord Stream pipeline system damage to NS1 and NS2.
"The US stands ready to support European partners' efforts as they investigate," Bertrand said.
Another CNN national security reporter, Kylie Atwood, tweeted that US Secretary of State Antony Blinken said it would be "in no one's interest" if NS leaks were confirmed as the result of an attack or sabotage.
Sec Blinken cites initial reports that the nord stream leaks may be the result of an attack or sabotage, which he says are not confirmed. But if they are confirmed he says such an attack is "in no one's interest."

— Kylie Atwood (@kylieatwood) September 27, 2022
Remember what Undersecretary of State for Political Affairs Victoria Nuland said earlier this year...
⚠️January 27, 2022 VICTORIA NULAND: "If Russia invades Ukraine, one way or another, Nord Stream 2 will not move forward." pic.twitter.com/gYSaMd0yJc

— AZ 🛰🌏🌍🌎 (@AZmilitary1) September 27, 2022
* * *
Update (1025ET):
AFP News reported the US is 'ready to provide support' to Europe after the Nord Stream pipeline system leaks.
There was no further information on what type of support, but one can only imagine it would involve increased LNG cargo shipments to the EU.
There's only one issue...
And then watch these floating hindenburgs encounter unexpected if catastrophic "events" as they sail to Europe https://t.co/aoMOWxWDry

— zerohedge (@zerohedge) September 26, 2022
* * *
Update (0932ET):
Swedish broadcaster SVT reported that the Swedish National Seismic Network detected two underwater explosions near the Nord Stream pipeline system on Monday.
"One of the explosions had a magnitude of 2.3, and was registered at as many as 30 measuring stations in southern Sweden," SVT said.
Bjorn Lund, a professor in seismology and director of the Swedish National Seismic Network, said these two seismic events were explosions.
Here's a map of the three leaks on the Nord Stream pipeline system.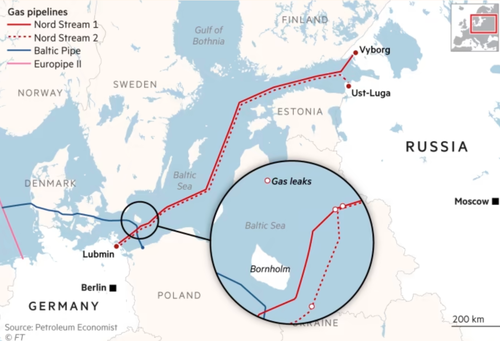 All blasts seem to be just outside territorial waters (though within EEZ) - that has potential legal implications regarding interference with sovereignty

Also interesting is whether sheer size of methane bubbles (1km diameter) moves it back inside Danish territory... https://t.co/a3l0q0bByk

— David Sheppard (@OilSheppard) September 27, 2022
Bloomberg's Javier Blas said the size of the "gas leak is huge."
The size of the Nord Stream pipeline gas leak is huge.

According to the Danish armed forces, it measures about 1 kilometer in diameter. The smaller circle in the center is approximately 200 meters wide https://t.co/7FJQNN5hNg

— Javier Blas (@JavierBlas) September 27, 2022
So the question remains what (or who) caused the blasts?
Remember what President Biden said weeks before Russia invaded Ukraine:
"If Russia invades...then there will be no longer a Nord Stream 2. We will bring an end to it."
No biggie, just a major gas leak in Nordstream 2 and suspected 'sabotage,' it's a real mystery what's going on 🤔 https://t.co/azIM4DF58T

— Kyle Becker (@kylenabecker) September 27, 2022
* * *
Update (0920ET):
Swedish daily newspaper Aftonbaldet quoted the Swedish Defense Force's chief of operations, Michael Claesson, who said it's not ruled out that there's a connection to the gas leaks and Russia's mobilization last week.
Claesson then told the paper that the incident was a "military matter."
* * *
Update (0910ET):
Danish Defense Forces published the first images of the gas leaks from the Nord Stream pipeline system near the exclusive economic zone southeast of Bornholm island, according to the Swedish daily newspaper Aftonbaldet.
The first images show a large surface area of gas bubbles in the Baltic Sea.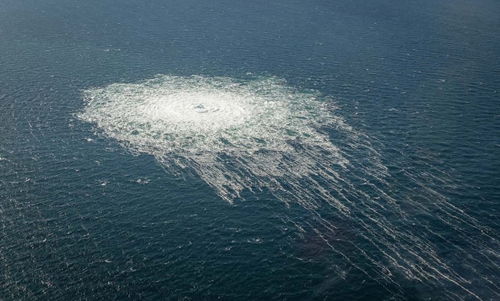 Here are more images of one of the leaks.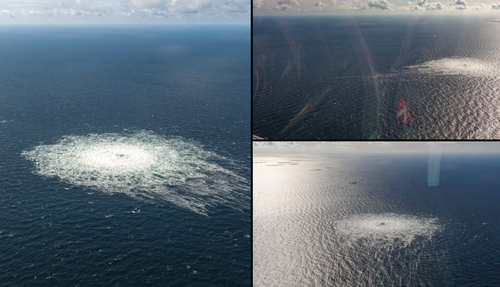 Another leak was reported by the Danish Defense Forces to be 1 kilometer in diameter on the surface water.
UPDATE - The surface area of the largest Nord Stream gas leak shows a "disturbance" of well over 1 kilometer in diameter, according to the Danish armed forces. pic.twitter.com/u0r4cGjImo

— Disclose.tv (@disclosetv) September 27, 2022
This is an absolutely massive leak.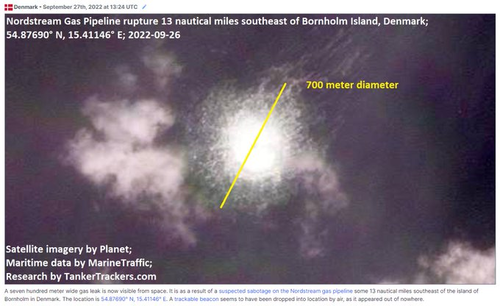 A handful of EU officials suspect the pipelines were sabotaged.
* * *
Update (0842ET):
Sweden's government held a crisis management meeting with other public authorities over the damage to the Nord Stream pipeline system, Swedish daily newspaper Aftonbaldet said, citing comments from Foreign Minister Ann Linde.
Linde said Sweden may discuss the pipeline damage with Denmark later today.
Denmark is tightening security around all energy assets as some European officials speculate the NS pipeline system was sabotaged.
* * *
The plot thickens about what caused damage to three lines of the Nord Stream gas-pipeline system under the Baltic Sea to Europe as some European officials now suspect sabotage.
Nord Stream AG, the operator of the NS pipeline system, published a statement Tuesday that read, "the destruction that happened within one day at three lines of the Nord Stream pipeline system is unprecedented ... and impossible now to estimate the timeframe for restoring operations of the gas shipment infrastructure."
On Monday, NS2 gas pipeline and two NS1 lines reported rapid pressure drops, with gas leaks reported by Swedish and Danish authorities in the Baltic Sea near the exclusive economic zone southeast of Bornholm island.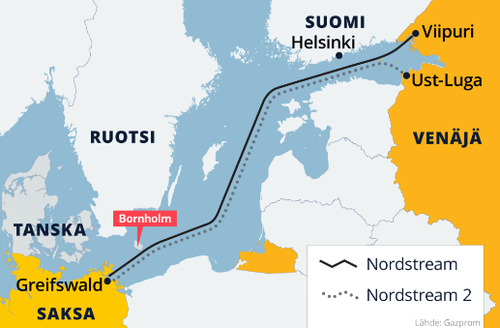 A more in-depth view of the incident area.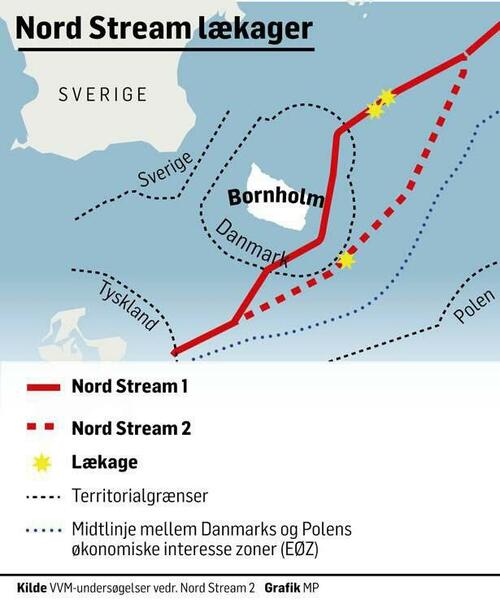 Pressure drops in the NS gas-pipeline system could be the biggest signal that flows via NS1 might not resume this winter. Germany and surrounding countries are investigating the incident. NS2 cannot impact flows to the EU because the controversial idled conduit was never operational after German Chancellor Olaf Scholz canceled it after Russia invaded Ukraine earlier this year.
Klaus Mueller, the president of the German energy network regulator, tweeted that the market situation remains "tense," but Germany and the EU are no longer dependent on NS supplies.
Nord Stream AG issued an outage message that is active until Oct. 26, while the German economy ministry said it's investigating the incident.
Dutch front-month gas, the European benchmark, was up nearly 10% at 190.50 euros per megawatt-hour on Tuesday morning.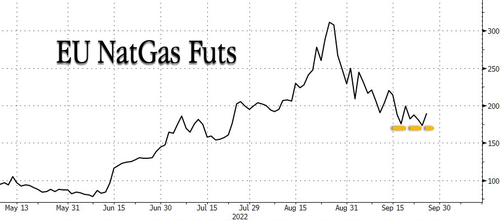 The simultaneous pressure drop of the NS lines suggests some market participants may watch for any indication of sabotage.
Denmark's Prime Minister Mette Frederiksen said it was hard to imagine NS gas leaks were caused by a "coincidence."
Frederiksen didn't rule out sabotage, though she said it was too early to draw any conclusions, according to Reuters, quoting public broadcaster DR during a visit to Poland.
A German security official told Bloomberg that NS damage appears to be the result of "sabotage."
The evidence points to a violent act, rather than a technical issue, according to a German security official, who asked not to be identified because the matter is being probed. -Bloomberg
German daily newspaper Tagesspiegel reported that "the Nord Stream pipelines may have been damaged by targeted attacks and leaked as a result."
A source close to the government, quoted in the newspaper, said, "everything speaks against a coincidence."
"We cannot imagine a scenario that is not a targeted attack," the source said.
Die Welt, another German newspaper, reported the timing of the NS damage may suggest sabotage and was unlikely to be an accident.
Reporters asked Kremlin spokesman Dmitry Peskov if the NS system's pressure drop could be due to sabotage. He responded: "It is impossible to exclude any options."
There appears to be no immediate end to the gas leak from NS pipelines, according to the Danish national daily newspaper Berlingske, which quoted Danish Energy Authority.
DANISH ENERGY AUTHORITY: GAS LEAKS FROM NORD STREAM PIPELINES WILL CONTINUE FOR DAYS -NEWSPAPER BERLINGSKE

— zerohedge (@zerohedge) September 27, 2022
The energy authority said, "a lot of gas is coming out, so it is not a small crack, it's a really big hole. Nord Stream leaks can be a deliberate act, but it can also be something else, it's just extremely rare that something like this happens."
DANISH ENERGY AUTHORITY CHIEF: GAS BUBBLES FROM NORD STREAM 2 LEAK REACHING SURFACE OF THE OCEAN IN AREA MEASURING MORE THAN 100 METRES IN DIAMETER

— zerohedge (@zerohedge) September 27, 2022