The annual conference of the World Economic Forum begins today in Davos, Switzerland. Global elites landed in luxurious private jets over the last few days in airports around Davos to discuss important global challenges, such as climate change, behind closed doors.
"The rich and powerful are swarming to Davos to discuss climate and inequality behind closed doors using the most unequal and polluting form of transport: private jets," Klara Maria Schenk, transport campaigner for Greenpeace's European mobility campaign, told news website Politics.co.uk.
Greenpeace International published a new report that showed 1,040 private jets flew in and out of airports around Davos for last year's meeting, causing CO2 emissions from private jets to increase four times more versus a weekly average.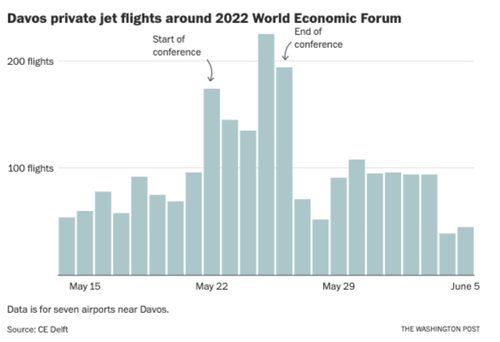 "Given that 80% of the world's population has never even flown, but suffers from the consequences of climate-damaging aviation emissions, and that the WEF claims to be committed to the 1.5°C Paris Climate Target, this annual private jet bonanza is a distasteful masterclass in hypocrisy. Private jets must be consigned to history if we are to have a green, just and safe future for all. So-called world leaders must lead by example and ban private jets and useless short-haul flights," added Schenk.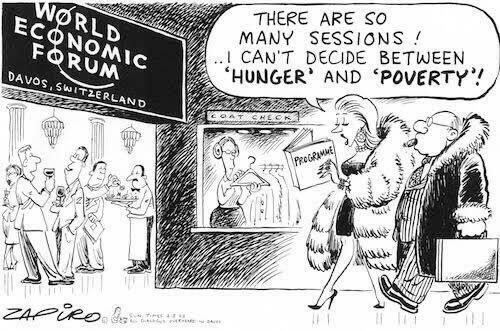 WEF hopes to tackle what they believe is a climate crisis plaguing the world despite most attendees arriving by private jets, which are the most polluting mode of transport per passenger
The world's elite has arrived in Davos on over 1000 private jets to lecture you about climate change. pic.twitter.com/2WyDiqLbV6

— DiEM25 (@DiEM_25) January 16, 2023
And motorcades of WEF attendees were spotted in gas-guzzling SUVs and high-end sedans.
▪️Over 2,500 delegates
▪️Over 1,000 private jets
▪️Motorcades

Yes, it's the annual WEF Davos jamboree of hypocrisy where a bunch of e̴l̴i̴t̴e̴s̴ / parasites preach to us plebs about saving the planet and use virtue as a smokescreen for their own greed. pic.twitter.com/MLL97DfFFz

— James Melville (@JamesMelville) January 13, 2023
Meanwhile, climate protesters spent Monday morning blocking at least one airport used by the super-rich.
@debtforclimate activists blocking the elites arriving on private jets to attend #WEF - the 1% is responsible for the illegitimate debt of the global South & the climate crisis most felt in Africa & Asia. pic.twitter.com/3WeO4NMwKn

— Payal Parekh (@payalclimate) January 16, 2023
and we are successful: the first planes have landed with WEF-guests, who are blocked from driving up to Davos by our activists. If you block climate action, we block you. We demand:#debtcancellationnow #polluterspay #stopneocolonialWEF #stopgreenwashing pic.twitter.com/Qr26S74GRr

— Debt for Climate Switzerland (@Debt4ClimateCH) January 16, 2023
BREAKING: We are blocking the private airport used by #Davos23 attendees to demand the richest 1% pay their climate debt!#DebtforClimate is putting pressure on the global elites to demand debt cancellation for the Global South to enable a just transition!#MakeThemPay pic.twitter.com/s61c4lwZ4a

— Debt for Climate (@DebtforClimate) January 16, 2023
5/6 We demand that the rich pay their #ClimateDebt through the unconditional cancellation of all foreign debts of countries in the Global South to enable #JustTransition and #polluters pay for the #LossAndDamage they cause in the countries most affected by the climate crisis. 👇 pic.twitter.com/DAmljQpOxi

— Debt for Climate (@DebtforClimate) January 16, 2023
"Davos has a perfectly adequate railway station, still these people can't even be bothered to take the train for a trip as short as 21 km. Do we really believe that these are the people to solve the problems the world faces?" Schenk said.
And remember, these elites will discuss how to reshape the world while guarded by soldiers and private security forces.
Given the unique nature of the event - with more than 50 heads of state and government, heads of the UN and EU etc expected to attend - security in #Davos is extremely tight. Army/police are everywhere and the whir of helicopters enforcing a strict no-fly zone is commonplace. pic.twitter.com/A3ts61TQAV

— David Walsh (@David_M_Walsh) January 15, 2023
I remeber in the 90is. All was easy going with zero security. But what is happening in the last few years in davos, army/police present,is just batshit crazy arrogant. Took the picture today on way up to davos pic.twitter.com/QSDbFPdQ6Q

— 12grad Sonnig (@marcograss2) January 12, 2023
The fact that WEF attendees arrive in droves of private jets only to discuss the climate crisis is hypocrisy at its finest. If there was actually a crisis, wouldn't these so-called climate warriors take public transportation to save the planet? Maybe the crisis that WEF promotes is just manufactured hype.