Objectivity has no place in a modern-day newsroom because it's "a distortion of reality" that was "dictated over decades by male editors in predominantly White newsrooms and reinforced their own view of the world," so says our new media elites.

From The Daily Caller News Foundation, "Major News Outlets Say They're Ditching Objectivity In The Name Of 'Diversity' ":
Leaders of prominent news organizations are eschewing journalistic objectivity, claiming it is antithetical to a diversity of views in their newsrooms, according to a series of interviews conducted by two journalism scholars.

Former executive editor for The Washington Post Leonard Downie Jr. and former CBS News President Andrew Heyward interviewed over 75 media leaders to gauge how the industry views the concept of "objectivity." The media figures argued that journalists should include their own beliefs, biases, and experiences to convey truth, and that journalistic objectivity was either unrealistic or undesirable.

"Objectivity has got to go," said Emilio Garcia-Ruiz, editor-in-chief at the San Francisco Chronicle.

"[I]ncreasingly, reporters, editors and media critics argue that the concept of journalistic objectivity is a distortion of reality. They point out that the standard was dictated over decades by male editors in predominantly White newsrooms and reinforced their own view of the world," Downie Jr. wrote. "They believe that pursuing objectivity can lead to false balance or misleading "bothsidesism" in covering stories about race, the treatment of women, LGBTQ+ rights, income inequality, climate change and many other subjects. And, in today's diversifying newsrooms, they feel it negates many of their own identities, life experiences and cultural contexts, keeping them from pursuing truth in their work."

"Journalists of color" and LGBTQ journalists said that reporting objectively "negates their own identity, life experiences and cultural contexts, keeping them from pursuing truth in their work," according to Downie Jr.

Journalists believe objectivity prevents them from accurate reporting, as it bars them from channeling their background and beliefs, the survey found.

"It's objective by whose standard? ... That standard seems to be White, educated, and fairly wealthy," said Kathleen Carroll, former executive editor at the Associated Press.

The media shouldn't simply use "neutral language" by default, New York Times executive editor Joseph Kahn said. For instance, if there is undisputed evidence of racism or falsehoods, journalists should be direct with readers.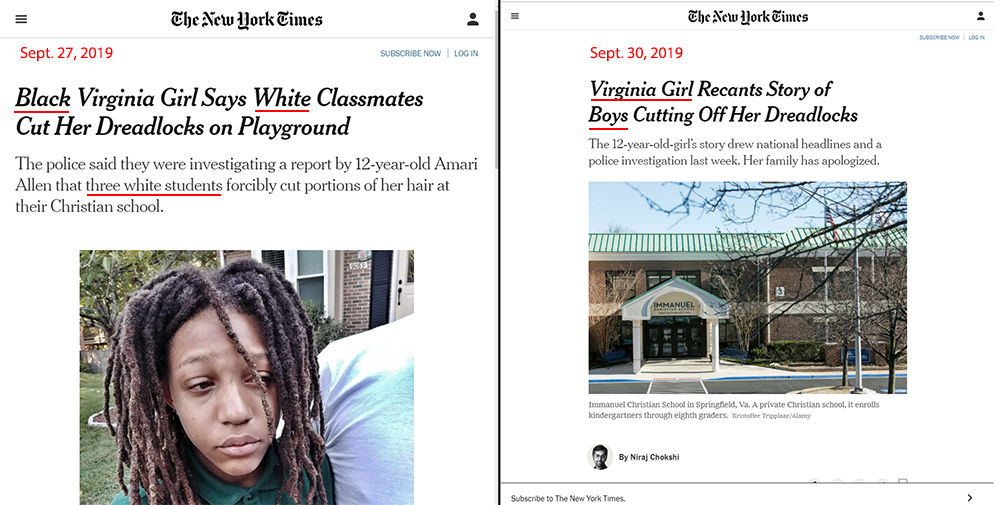 The New York Times demonstrates when it is appropriate to "be direct with readers" to fight racism and when it's best to use "neutral language."
The Los Angeles Times allows their staff to write personal essays so they can share more of their identities, said editor Kevin Merida. Such essays appear on the first page, including a gay reporter's story about marriage and the legalities of gay marriage.

USA Today has no problem allowing their reporters to write about their own experiences, so long as the stories aren't too biased, said editor-in-chief Nicole Carroll. She also welcomes a diverse group of journalists to express their experiences when discussing newsworthy stories.

"What we found has convinced us that truth-seeking news media must move beyond whatever 'objectivity' once meant to produce more trustworthy news," said Downie Jr.

Many of the interviewees seemed to be in support of such a change.

"This appears to be the beginning of another generational shift in American journalism," Downie Jr. said.
It sounds more like the end of American journalism rather than a new beginning.

That said, I actually applaud them for coming out and stating this all for the record.




Their statements are all objectively idiotic but they don't even realize it because they've abandoned all objectivity!

RELATED: Poynter: Media Should End Local Crime Beat to Avoid Connecting 'Black and Brown Communities' to Crime

Follow InformationLiberation on Twitter, Facebook, Gab, Minds and Telegram.
Share This Article...
PLEASE DISABLE AD BLOCKER TO VIEW DISQUS COMMENTS
Ad Blocking software disables some of the functionality of our website, including our comments section for some browsers.