Within the last hour, numerous Twitter users have uploaded footage of what appears to be the Chinese balloon floating above North Carolina.
Chinese balloon over Shelby North Carolina at 9:35 AM. Moving west south west. pic.twitter.com/EEj8vGk6La

— Anne Eskridge (@AnneEskridge1) February 4, 2023
Here's the #ChineseSpyBallon over Easley, SC around 8:45am this AM. The trajectory forecast I posted last night seems right on. The balloon should be visible anywhere in southern North Carolina and northern South Carolina at some point over the next 6-8 hours. 📸 Jason McDowell. pic.twitter.com/6hspFrIXqG

— Ed Piotrowski (@EdPiotrowski) February 4, 2023
Chinese Spy Balloon currently SW of Polkville NC approximately over Kingston NC 9:44 AM #ChinaSpyBalloon @wxbrad pic.twitter.com/8OjdDwsgmN

— Brian Branch (@BrianBranch13) February 4, 2023
Local police tell residents don't shoot their guns at the giant balloon.
The Gastonia Police Department is asking residents to not shoot at the Chinese spy balloon if it flies over North Carolina pic.twitter.com/lD9VkI299M

— Joe Bruno (@JoeBrunoWSOC9) February 4, 2023
On Friday, we cited Capital Weather Gang, who accurately predicted the balloon's trajectory while it was floating above the Midwest. Now updated predictions for Saturday morning show the balloon might be headed toward the Atlantic.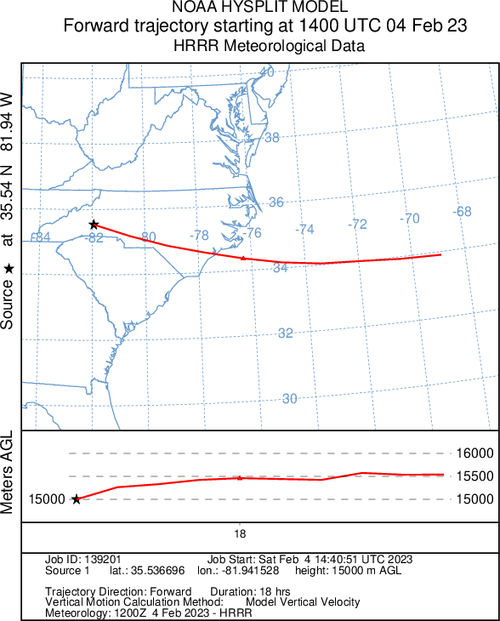 The balloon's payload is approximately 90 feet long, or the length of two motorhomes, and the balloon itself is much larger. Here's one of the clearest views of the balloon.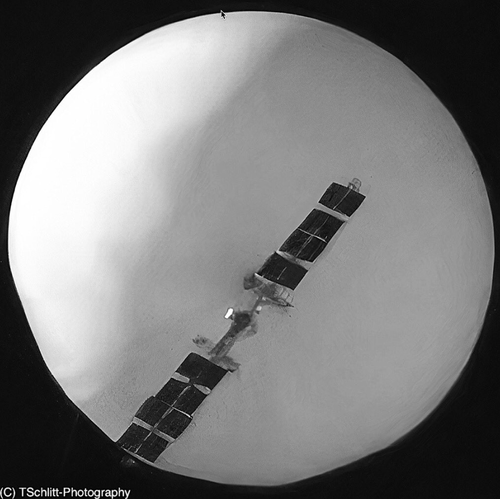 And there might be more balloons. We noted last night:
"We are seeing reports of a balloon transiting Latin America," Brig. Gen. Pat Ryder, a Pentagon spokesperson, told Fox News Friday night. "We now assess it is another Chinese surveillance balloon."
US officials have not ruled out shooting the balloon down. That might happen as soon as the balloon moves offshore into the Atlantic. Time for Space Force to shine.