The Kremlin in a Friday briefing called the recovery and examination of the object "critically important" as it has been discovered lying next to one of the damaged Nord Stream pipelines.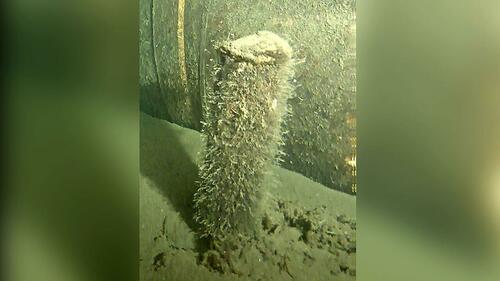 Kremlin spokesman Dmitry Peskov said during a daily briefing: "It is critically important to determine what kind of object it is, whether it is related to this terrorist act - apparently it is - and to continue this investigation. And this investigation must be transparent."
The Danish Energy Agency has invited the Russia's Gazprom (owner of Nord Stream 2 AG) to assist in salvaging the mystery object. It was actually Putin who was the first to publicly reference the object and ongoing investigative efforts to ascertain what it is, per the AFP:
Russian President Vladimir Putin, who revealed the discovery of the object earlier this month, said experts believe that the object could be a signal antenna to activate an explosive in that part of the pipeline.

...The Danish energy agency released a photo late Thursday of the cylindrical object standing near the Nord Stream 2 pipeline at the bottom of the sea.

The agency said it is "possible" that the object is a maritime smoke buoy, 40 centimeters tall and 10 centimeters wide, and that it "does not pose an immediate safety risk."
Peskov meanwhile said regarding the ongoing German, Swedish and Danish investigation that it is "certainly positive news" that Copenhagen invited Nord Stream 2 AG to take an active role in the investigation.
Since the September 26 clandestine bombings which permanently disabled the Russia to Germany natural gas pipelines running under the Baltic Sea, the prevailing narrative has shifted dramatically. Initially, Western officials and media pointed the finger at Moscow, but then in February legendary journalist Seymour Hersh issued an investigative report detailing that it was a CIA and US Navy covert operation.
Denmark is salvaging an unidentified object found next to the Nord Stream 2 undersea gas pipeline that was damaged in a blast last September

Latest updates: https://t.co/Hiek57LSeR pic.twitter.com/GXB5WuoP7M

— Bloomberg (@business) March 24, 2023
After the Hersh report, allegations that Russia bombed its own pipeline have largely died down (given also it would obviously run counter to Russia's self-interests), and instead a new theory has been advanced by mainstream media - that a small group of rogue Ukrainian operatives did it. However, the Kremlin has blasted this as ludicrous, pointing out that only a state and military would have the resources to carry out such a difficult and complex operation. Hersh has since alleged based on his sources that the CIA itself planted the "Ukrainian partisans" narrative in friendly media outlets in order to shield the White House.