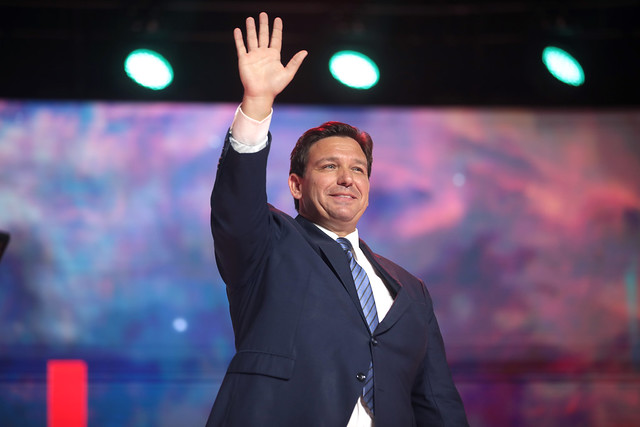 Florida Governor Ron DeSantis, who traveled to Jerusalem last month to dine with top pro-Israel GOP megadonors and sign an oppressive hate crime bill into law to jail critics of Israel in Florida, is reportedly going to announce he is running for president on Wednesday.

From NBC News, "Ron DeSantis will launch his presidential bid with Elon Musk":
Florida Gov. Ron DeSantis will announce he is running for president during a discussion with Twitter CEO Elon Musk, three sources familiar with the plans told NBC News.

Musk and DeSantis will host an event on Twitter Spaces, the site's platform for audio chats, on Wednesday at 6 p.m. ET. It will be moderated by David Sacks, a tech entrepreneur who is a Musk confidant and DeSantis supporter.

That same evening, the campaign will release a launch video, and DeSantis will begin visiting several early states after Memorial Day.

[...] Last year, Musk said he would support the governor if he were to run for president.

[...] During the Wall Street Journal's 2023 CEO Summit Council on Tuesday, Musk confirmed his participation in DeSantis' announcement but said he was not going to be formally endorsing DeSantis at that time.



BREAKING: Elon Musk confirms reports that he will be holding a Twitter Space with Ron DeSantis tomorrow with "real time questions and answers" pic.twitter.com/pd3pSTyobQ

— ALX 🇺🇸 (@alx) May 23, 2023


"I think it's quite groundbreaking that there be a major announcement of this type on social media," he said, adding that he was "not going to endorse any particular candidate" for president quite yet.
Besides being a total shill, DeSantis' main problem is he has zero charisma and terrible political instincts.


"What's your name?"

"I'm Tim something"

"Ok…"

Never say "OK" when someone introduces himself. Might as well say "you don't matter and I'm not going to even bother thinking of something to say back." pic.twitter.com/EqQpEb78Cj

— Richard Hanania (@RichardHanania) May 21, 2023

He wants to attack Trump from the right over his support for covid lockdowns but he did the same in Florida.


DeSantis: "The way they weaponized these COVID vaccines was a massive incursion into our freedom… They wanted to deny people the right to put food on their table if they didn't bend the knee… We can never allow 'warp speed' to trump informed consent."pic.twitter.com/Ppsmu0vCmD

— Michael P Senger (@michaelpsenger) May 21, 2023

That he was slightly slower to act than Trump is merely because he's a fence-sitter. GOP governors in Arkansas, Iowa, Nebraska, North Dakota, Utah and Wyoming never issued stay-at-home orders and South Dakota Gov. Kristi Noem didn't lock down at all.

DeSantis is trying to put forward a "Trumpism without Trump" but the problem is he's always been a GOP normiecon.


No way, Ron DeSantis is the bravest of all. See for example: his brave advocacy of bombing Assad, sending lethal weaponry to Ukraine, deploying US missiles to Taiwan, imposing regime change in Venezuela, keeping Guantanamo Bay open, and Israel's annexation of the Golan Heights https://t.co/ZG2fW8oKJq pic.twitter.com/IAyk0vri2N

— Michael Tracey (@mtracey) October 11, 2022

When he put out a statement to Tucker Carlson vaguely suggesting the US shouldn't be so involved in the "territorial dispute" in Ukraine he immediately walked it back after his donors kvetched. He then slavishly came out and labeled Putin a "war criminal," and echoing an old John McCain talking point, he described the Russian president as "basically a gas station with a bunch of nuclear weapons."


DeSantis on Putin: "I think he's got grand ambitions. I think he's hostile to the US, but... he's basically a gas station with a bunch of nuclear weapons"

John McCain coined that description of Russia -- "gas station masquerading as a country." Good to know DeSantis's influences pic.twitter.com/qY3Cvpz8n7

— Michael Tracey (@mtracey) March 22, 2023

I'm not a big fan of Trump because he packed his cabinet with traitors and didn't follow through on most of his promises but at least he bucked the regime on occasion. There's no reason to believe DeSantis will do anything other than what his donors want him to do.

It bears repeating that DeSantis literally flew to Israel last month to dine with top pro-Israel GOP megadonors like Miriam Adelson (the wife of the late Sheldon Adelson) and Larry Mizel and then, while on foreign soil, immediately went and signed the most oppressive hate crime bill in America to jail Floridians for their First Amendment protected speech.

DeSantis' pledge of allegiance to a foreign power was effectively the start of his presidential campaign.


"The Free State of Florida" is on the cusp of having the most oppressive hate crime laws in America in order to "combat anti-Semitism." https://t.co/wTsSrdYR6B

— Chris Menahan 🇺🇸 (@infolibnews) April 27, 2023

That one act should disqualify DeSantis from the presidency. If we had a legitimate government, he'd be under investigation right now for foreign influence peddling.

Instead, we have Attorney General Merrick Garland and various Soros-funded prosecutors working to throw DeSantis' main rival -- former President Donald Trump -- in prison for nothing.

[Header image of Ron DeSantis by Gage Skidmore, CC BY-SA 2.0]

Follow InformationLiberation on Twitter, Facebook, Gab, Minds and Telegram.


PLEASE DISABLE AD BLOCKER TO VIEW DISQUS COMMENTS
Ad Blocking software disables some of the functionality of our website, including our comments section for some browsers.