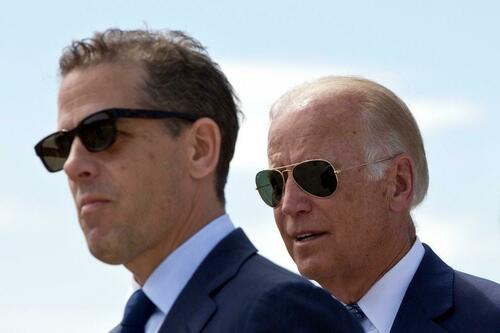 According to Rep. Jason Smith (R-MO), Weiss sought to be appointed as a special counsel in the case last year but was denied as well.
What's more, the IRS sought felony charges against Hunter, send their recommendations to the Biden DOJ, and they 'came out as two misdemeanors,' Byron York tweets.
Newly-released transcripts show the IRS wanted felony charges against Hunter Biden. But their recommendations went to the Justice Department and came out as two misdemeanors. From Whistleblowers #1 and #2:https://t.co/pvMX3fqEDH pic.twitter.com/ZNNQ9z25Rv

— Byron York (@ByronYork) June 22, 2023
According to the whistleblowers, one of whom is Gary Shipley - who came forward weeks ago to reveal his identity, the IRS was notified of potential evidence "in the guest house of former Vice President Biden," but were rebuffed by US Attorney Lesley Wolf, who said there was "no way," as search warrant "would ever get approved."
House Ways & Means Chair Jason Smith details multiple felony charges whistleblowers say the IRS recommended against Hunter Biden, covering "$2.2 million in unreported tax on global income...from Ukraine, Romania, and China."

Instead, Biden's DOJ gave Hunter a sweetheart deal. pic.twitter.com/8SdMkWgaaT

— RNC Research (@RNCResearch) June 22, 2023
"Whistleblowers describe how the Biden Justice Department intervened and overstepped in a campaign to protect the son of Joe Biden by delaying, divulging, and denying an ongoing investigation into Hunter Biden's alleged tax crimes," said Smith in a statement. "The testimony shows tactics used by the Justice Department to delay the investigation long enough to reach the statute of limitations, evidence they divulged sensitive actions by the investigative team to Biden's attorneys, and denied requests by the U.S. Attorney to bring charges against Biden."
As IRS criminal investigators prepared an affidavit for a search warrant on a storage unit Hunter Biden used to hide his business records, AUSA Lesley Wolf objected. When U.S. attorney David Weiss overruled her, she alerted Biden's legal team, giving them time to vacate the unit. pic.twitter.com/fEHHFQJP5K

— Sean Davis (@seanmdav) June 22, 2023
During seven hours of testimony before the Ways and Means Committee, Shipley and the other whistleblower's testimony implicates both AG Merrick Garland and IRS Commissioner Daniel Werfel for lying to Congress about political interference in the Biden probe.
BREAKING: On September 4, 2020, DOJ ordered a "cease and desist" on any overt investigation of Hunter Biden or Biden family influence peddling, according to IRS whistleblower Gary Shapley. pic.twitter.com/CQxPSm4FSx

— Sean Davis (@seanmdav) June 22, 2023
"Whistleblower One's story was corroborated by Whistleblower Two," said Rep. Kevin Hern (R-OK).
"One individual came forward and laid out the full case of what's going on. The second individual, through his attorney, asked Ways and Means to contact him and ask for testimony. So we didn't seek these, they sought us," added Rep. Greg Murphy (R-NC).
As Techno Fog notes via The Reactionary;
With the rejection from the DC US Attorney, the team sought the approval to bring tax charges for years 2016-2019 in the Central District of California. Shapley concluded that "the Central District of California declined to allow charges to be brought there."

The rejection to bring charges in DC and California stands in stark contrast to the testimony of Attorney General Garland, who in March of 2023 stated that US Attorney Weiss had the full authority to "bring cases in other jurisdictions." Garland also said that he personally would ensure that Weiss could "carry out his investigation and that he [would] be able to run it." Both those statements now appear to be false. (Your humble author thinks the Republicans knew Garland was making misrepresentations at the time.)

...

Preferential treatment of Hunter Biden might be an understatement. In reality, it was sabotage, the affirmative effort to decline investigative steps and deny prosecutors the ability to bring charges. The DOJ's conduct included:

"included slow-walking investigative steps, not allowing enforcement actions to be executed, limiting investigators' line of questioning for witnesses, misleading investigators on charging authority, delaying any and all actions months before elections."

Prosecutors even wanted to remove Hunter Biden's name from electronic search warrants and document requests, even though this could cause investigators to not get certain evidence.
Joe Biden was in the room
In another piece of evidence presented on Thursday, Hunter Biden can be seen in a message to Chinese business associate, Henry Zhao, demanding that they send money as promised.
"I am sitting here with my father and we would like to understand why the commitment made has not been fulfilled," wrote Hunter via WhatsApp on July 30, 2017. "Tell the director that I would like to resolve this now before it gets out of hand, and now means tonight."
Hunter then warned that "if I get a call or text from anyone involved in this other than you, Zhang or the chairman, I will make certain that between the man sitting next to me and every person he knows and my ability to forever hold a grudge that you will regret not following my direction. I am sitting here waiting for the call with my father."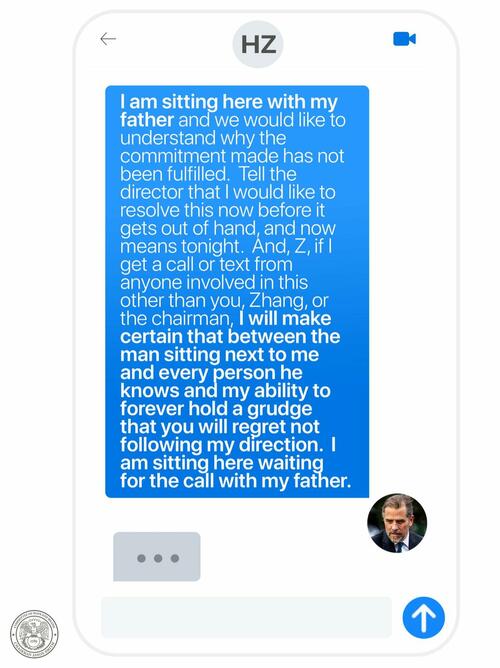 The whistleblower also revealed that the IRS recommended felony charges for Hunter Biden because he failed to pay more than $2.2 million in taxes on $8.3 million of income from foreign entities in Ukraine, China, and Romania.https://t.co/kg9ZVVxU3y

— Greg Price (@greg_price11) June 22, 2023
...The problem is that the Bidens succeeded in investing the media in the denial of this scandal. https://t.co/sCAcQT9bBd

— Jonathan Turley (@JonathanTurley) June 22, 2023
FLASHBACK:

"I have never spoken to my son about his overseas business dealings" -- Joe Biden in 2019 pic.twitter.com/mTsD5XItMI

— Steve Guest (@SteveGuest) June 22, 2023
'There is no way a search warrant for evidence would ever get approved.'

Democrat privilege. pic.twitter.com/toXqwvkBaf

— Hans Mahncke (@HansMahncke) June 22, 2023
And back to the embargo on the Hunter Biden laptop story...
The FBI had the laptop in October of 2019. It was verified in November 2019. In October of 2020 Twitter blocked any sharing of the NY Post story. Biden called it a smear orchestrated by Russia. Biden's name appears here. pic.twitter.com/wj2dfo6i78

— Stephen L. Miller (@redsteeze) June 22, 2023
Stay tuned, folks...
Curious … How many officials of the U.S. govt has the CCP bought off besides the president? https://t.co/AX2dniNrxr

— Tom Elliott (@tomselliott) June 22, 2023