Congressional leaders were even briefed days prior to Saturday's events, after US intelligence reportedly observed the mercenary firm mustering forces and amassing weapons in preparation for possibly making a move against the defense ministry.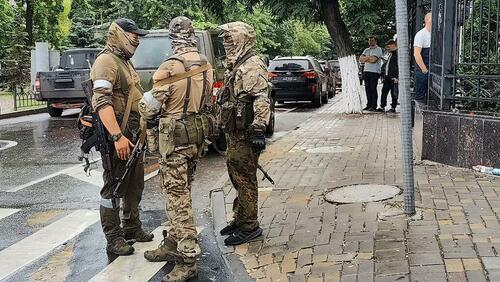 Describing the Congressional briefings, The New York Times reported late Saturday that "U.S. spy agencies had indications days earlier that Mr. Prigozhin was planning something and worked to refine that material into a finished assessment, officials said."
"The information shows that the United States was aware of impending events in Russia, similar to how intelligence agencies had warned in late 2021 that Vladimir V. Putin was planning to invade Ukraine."
But unlike in the case of those prior invasion warnings of February 2022, the US administration stayed silent ahead of the dramatic Wagner events, likely hoping that it would create destabilization in the Russian state, and negatively impact military operations in Ukraine. So far, there's been little evidence to suggest the whole short-lived mutiny by Wagner led to significant Ukrainian gains along the frontlines.
The Times explains the rationale of its intel sources as follows:
U.S. officials felt that if they said anything, Mr. Putin could accuse them of orchestrating a coup. And they clearly had little interest in helping Mr. Putin avoid a major, embarrassing fracturing of his support.

While it is not clear exactly when the United States first learned of the plot, intelligence officials conducted briefings on Wednesday with administration and defense officials. On Thursday, as additional confirmation of the plot came in, intelligence officials informed a narrow group of congressional leaders, according to officials familiar with the briefings who spoke on condition of anonymity because they were not authorized to speak publicly.
Whenever a show is over, claim to deserve a place in the credits. https://t.co/gNcN6HPMN8

— Moon of Alabama (@MoonofA) June 25, 2023
While over the past months Prigozhin has made his personal hatred for Defense Minister Sergei Shoigu and top general Valery Gerasimov well known, the intelligence that Washington supposedly had seems very specific and appears to have accurately predicted events, a mere few days before they unfolded.
While the Kremlin has thus far refrained from blaming the tumultuous events on US or NATO countries, it has indirectly hinted and warned that the West could exploit the situation.
"The attempted armed mutiny in our country has aroused strong disapproval in Russian society, which firmly supports President Vladimir Putin," a Foreign Ministry statement said Saturday. "We warn the Western countries against the slightest attempts to use the internal situation in Russia for achieving their Russophobic aims. Such attempts are futile and evoke no support either in Russia or among soberly-minded political forces abroad."
But soon after, Secretary of State Blinken did just that, in Sunday news shows pushing the talking point that the Wagner mutiny exposed "real cracks" in Putin's government:
Secretary of State Antony Blinken on Sunday said the short-lived rebellion from Wagner Group head Yevgeny Prigozhin "shows real cracks" within Russia as it wages its war on Ukraine.

"Prigozhin himself, in this entire incident, has raised profound questions about the very premises for Russian aggression against Ukraine in the first place, saying that Ukraine or NATO did not pose a threat to Russia, which is part of Putin's narrative. And it was a direct challenge to Putin's authority. So this raises profound questions. It shows real cracks," Blinken said on CBS News's "Face the Nation," referring to Russian President Vladimir Putin.
Russian MFA released a rather peculiar statement right as the Wagner hysteria was coming to a close.

Russia called out US-led/sponsored wars, and brought up past failed CIA black ops such as the Bay of Pigs.

Are the Russian government hinting they just foiled another CIA stunt? https://t.co/rmlSf2Dou7

— Clandestine (@WarClandestine) June 24, 2023
A beefed up military presence in major cities and in the south of Russia has remained throughout the weekend. Moscow's iconic Red Square has stayed closed throughout Sunday, with extra security measures still in place.
Sky News and others have meanwhile commented on Putin not being willing to forgive "betrayal":
Dmitry Kiselyov, in his Russian state TV programme, has claimed the swift resolution of the Wagner Group's mutiny shows Russia is a united nation. Part of his show has been tweeted by Francis Scarr from BBC Monitoring. Mr Kiselyov also played an archive clip of Vladimir Putin saying he is able to forgive many things, but not "betrayal".

There is considerable speculation about how Mr Putin will react to the mutiny. US Secretary of State Antony Blinken has said it could take weeks or months to play out.
On Saturday in Putin's televised remarks to the nation which addressed the crisis as it was unfolding, the Russian president called the mutineers' actions "a knife in the back of our people."
They knew it all the time of course. After seeing 12 hours of propaganda insinuating the FSB was defecting, Putin was flying away, in a bunker. Moscow was about to be taken. Multiple helicopters taken out. Yeah. Terrible psy-op. Cost $6.2 billion

— Rambling Infantryman (@Veteran4Amer1ca) June 25, 2023
Meanwhile, with Prigozhin headed into 'exile' in neighboring Belarus as part of the Lukashenko-mediated ceasefire deal, speculation still abounds over the confusing situation, and several dominant theories have emerged.
What's clear is that President Putin took the matter very seriously. "Russian President Vladimir Putin said that he keeps the situation of the special operation under control around the clock," a statement in TASS said. The president "has been staying up quite late lately," the statement said.