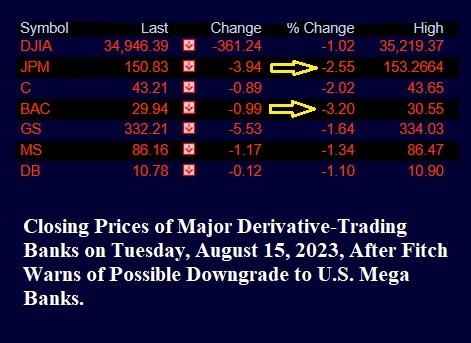 By Pam Martens and Russ Martens: August 16, 2023 ~
Yesterday, the Dow Jones Industrial Average took a tumble of 361 points by the closing bell. Numerous headlines attributed the big decline to a weakening economy in China. But the actual trigger for angst among traders was a headline at 5:30 a.m. EDT yesterday at CNBC. The headline read: "Fitch warns it may be forced to downgrade dozens of banks, including JPMorgan Chase."
JPMorgan Chase is not just the biggest bank in the United States in terms of assets and deposits. It is the biggest bank in terms of its derivative exposure. According to the federal regulator of national banks (those operating across state lines), the Office of the Comptroller of the Currency (OCC), as of March 31, 2023, JPMorgan Chase Bank had assets of $3.2 trillion and derivative exposure of more than $59 trillion notional (face amount).
The OCC report also makes the following frightening statement: "A small group of large financial institutions continues to dominate trading and derivatives activity in the U.S. commercial banking system. During the first quarter of 2023, four large commercial banks represented 89.0 percent of the total banking industry notional amounts and 66.5 percent of industry net current credit exposure (NCCE)."
And now Fitch is sending a message to the market that it may have to downgrade those big four banks. What could possibly go wrong?
The four commercial banks the OCC is referring to are JPMorgan Chase, Goldman Sachs Bank USA, Citigroup's Citibank, and Bank of America.
But if you look at the OCC's breakdown of derivative exposure at the bank holding company level, a fifth bank emerges – Morgan Stanley – which somehow manages to remain below the radar on its derivatives – until things blow up.
These five bank holding companies hold $238 trillion of the total of $285 trillion in derivatives held by the top 25 bank holding companies with exposure to derivatives, according to the latest OCC report. To express that another way, 84 percent of the danger of derivatives blowing up as they did in 2008 is concentrated at just five U.S. banks out of the 4,096 federally-insured commercial banks in the U.S.
Unfortunately, the bad news doesn't end there. Back in 2010 when the Dodd-Frank financial reform legislation was passed, banks were supposed to do two important things with their dangerous exposure to derivatives. They were required to "push out" the derivatives to another unit of the bank holding company, other than the federally-insured bank, so that this unit could be wound down if the derivatives blew it up. Citigroup was able to get this Dodd-Frank reform repealed in a sneaky maneuver in 2014.
Dodd-Frank also was heralded as forcing the mega banks to move these dodgy derivatives to being centrally-cleared in order to bring stability and transparency to this dangerous market. Instead, the latest report from the OCC notes that "In the first quarter of 2023, 40.5 percent of banks' derivative holdings were centrally cleared…" meaning that 59.5 percent of derivatives are still an opaque black hole, also known as OTC (over-the-counter) derivatives.