YouTube earlier had a "COVID-19 Misinformation Policy" webpage that stated that the platform doesn't allow any content that "poses a serious risk of egregious harm" and spreads "medical misinformation" contradicting what the WHO or local health authorities (LHA) say about the COVID-19 pandemic. The webpage now redirects to a "medical misinformation policy" page that expands the censorship rule to "specific health conditions and substances" rather than COVID-19 alone.
YouTube stated that the policy could be arbitrarily enforced, as it "may not cover" all guidance from the WHO or LHAs related to "specific health conditions and substances."
In an Aug. 15 blog
post
, YouTube wrote that it wants to "make sure there is a robust framework to build upon when the need for new medical misinformation policies arises."
"We'll continue to monitor local and global health authority guidance to make sure our policies adapt," the post reads. "We want our approach to be clear and transparent, so that content creators understand where the policy lines are, and viewers know they can trust the health information they find on YouTube."
YouTube asked creators to avoid posting content on the platform that contradicts health authority guidance on the prevention or transmission of certain health conditions "or on the safety, efficacy or ingredients of currently approved and administered vaccines."
Content that contradicts guidance on treatments, including promoting "specific harmful substances or practices" not approved by authorities or the WHO as safe and effective, also won't be allowed on the platform.
Any content that "denies the existence" of certain health conditions would be banned as well.
The new policy is being criticized for suppressing the free flow of information. Author Michael Shellenberger pointed out that YouTube's new policies "will censor you if you disagree" with the WHO.
"YouTube recognizes that WHO's 'guidance' might change. But if it does, it won't be because of debate on YouTube. YouTube isn't a social media platform, it's a propaganda platform," he wrote in an Aug. 16 post on X, formerly known as Twitter.
"Imagine if YouTube had been around over the last 200 years. It would have banned criticisms of blood-letting, thalidomide, lobotomies, and sterilizing the mentally ill, all of which were recommended by official health authorities."
Vaccine Misinformation
Claims that vaccines cause chronic side effects "outside of rare side effects" recognized by health authorities would be deemed as "vaccine misinformation" by YouTube.
This includes claims that an approved COVID-19 vaccine could cause "death, infertility, miscarriage, autism, or contraction of other infectious diseases."
The policy stands in contrast to recent studies that show that COVID-19 vaccines could result in death. In June, a study funded by the South Korean government showed that after receiving an mRNA COVID-19 vaccine, eight people died suddenly of myocarditis, an inflammation of the heart muscle.
All the sudden cardiac deaths occurred in people aged 45 and younger. One of the victims was a 33-year-old man who died just one day after he received the second dose of the Moderna vaccine. Another case involved a 30-year-old woman who died three days after getting her first dose of a Pfizer vaccine.
Any content claiming that herd immunity through natural infection is safer than vaccinating the population will also be classified as "misinformation" by YouTube. Other such "misinformation" includes claims that vaccines don't reduce the risk of contracting illness and that vaccines could alter a person's genetic makeup.
The new policies "apply to videos, video descriptions, comments, live streams, and any other YouTube product or feature," according to the YouTube post.
"These policies also apply to external links in your content. This can include clickable URLs, verbally directing users to other sites in video, as well as other forms," the post reads.
Abuse of Power
In his X post, Mr. Shellenberger pointed out that opposition to bad medical or health advice usually comes from outside of these professions. By disallowing criticism of the mainstream narrative, YouTube's new policy risks triggering "gross abuses of power."
It's also "an attack on free speech, science, and democracy," he said, noting that "this is all part of the WHO's master plan to censor the world."
The WHO has also faced criticism for colluding with the Chinese Communist Party, especially during the early days of the COVID-19 pandemic, as the organization repeated the regime's talking points.
The WHO downplayed the effect of COVID-19, which eventually spread to 229 countries around the world with a death toll of nearly 7 million people, excluding China.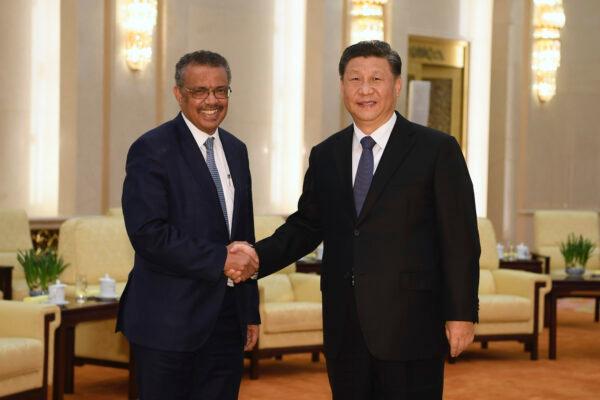 The updated YouTube policy comes as the WHO is engaged in drafting a global convention on pandemic prevention, preparedness, and response. The convention will exist under the WHO constitution and will have legally binding and non-legally binding components.
If the global convention comes to fruition, the WHO can be empowered to determine lockdowns and have the authority to decide what constitutes a pandemic, how testing can be carried out, what test results would be considered positive or negative, and which drugs to suppress and approve.
In an Aug. 16 commentary at The Epoch Times, Dr. David Bell, a public health physician, pointed out that the COVID-19 response ignored common norms of managing epidemics and human rights to institute a "regime of suppression, censorship, and coercion."
"Without pausing to examine the costs, the public health industry is developing international instruments and processes that will entrench these destructive practices in international law," he said.
"Public health, presented as a series of health emergencies, is being used once again to facilitate a fascist approach to societal management."