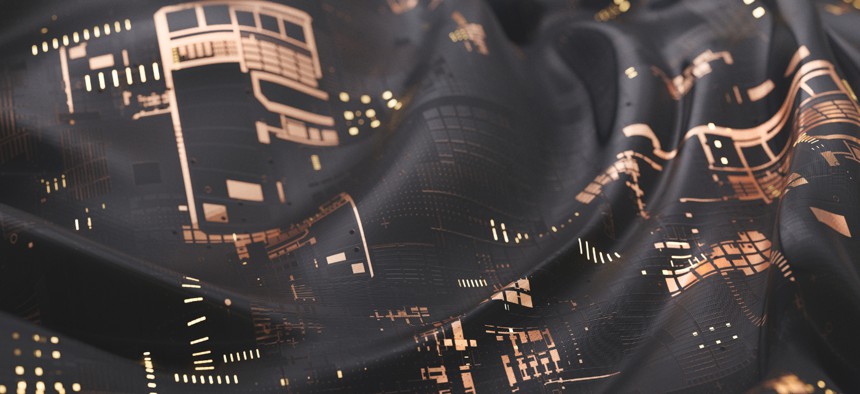 The Intelligence Advanced Research Projects Activity is developing a new tool that brings wearable technology right down to the fiber of your clothing.
Officials from the research agency said Tuesday that they had launched a program to craft performance-grade, computerized clothing that can record audio, video and geolocation data while retaining the wearability and comfort of normal fabrics.
The Smart Electrically Powered and Networked Textile Systems — SMART ePANTS — program emerged a year ago with a broad agency announcement seeking contractors to help deliver sensor systems that can be integrated into normal clothing like shirts and pants, or even socks and underwear.
Those sensors are part of a system that is woven into the textiles to make the garments more wearable and washable, but also able to "sense, store, interpret, and/or react to information from their environment," effectively making them Active Smart Textiles, according to agency documents.
"IARPA is proud to lead this first-of-its-kind effort for both the [Intelligence Community] and broader scientific community which will bring much-needed innovation to the field of ASTs," said Dawson Cagle, SMART ePANTS program manager, in a statement. "To date no group has committed the time and resources necessary to fashion the first integrated electronics that are stretchable, bendable, comfortable and washable like regular clothing."
The ASTs will be able to generate these capabilities through technology advancements like weavable conductive polymer that is threaded into the textile and can serve as the wires powering the sensors, energy harvesters powered by the person wearing the garment, "ultra-low power printable computers on cloth, microphones that behave like threads and 'scrunchable' batteries."
Most importantly, the garments must be able to export the data they gather to an external data storage device, like a hard drive.
IARPA is partnering with a mix of companies — like Leidos, Areté, Nautilus Defense and SRI International, alongside the Massachusetts Institute of Technology — to develop the AST clothing through a July 2022 broad agency announcement.
PLEASE DISABLE AD BLOCKER TO VIEW DISQUS COMMENTS
Ad Blocking software disables some of the functionality of our website, including our comments section for some browsers.