The tens of thousands of tons of medical waste produced as a result of the COVID-19 pandemic poses a threat to human and environmental health, the World Health Organization (WHO) warned in a report on Tuesday.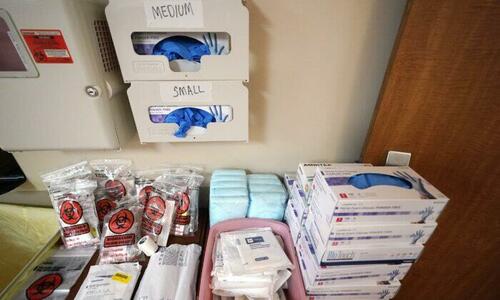 According to the agency's report, approximately 87,000 tons of personal protective equipment (PPE) was ordered between March 2020 and November 2021 through a joint U.N. emergency initiative and shipped to countries, the majority of which ended up as waste.
Authors note that over 140 million test kits have been shipped, with the potential to generate 2,600 tons of mainly plastic, non-infectious waste and 731,000 liters of chemical waste, which is the equivalent of one-third of an Olympic-size swimming pool.
Furthermore, over 8 billion doses of vaccine have been administered globally, which has created 144,000 tons of additional waste in the form of syringes, needles, and safety boxes.
The report only takes into account COVID-19 commodities procured through the joint U.N. emergency initiative and not the waste generated by the public or via other initiatives.
The WHO noted that as the U.N. and countries across the world raced to secure supplies of PPE amid the pandemic, officials were less focused on safely and sustainably managing the waste that resulted from COVID-19 related health care.
The agency is calling for "effective management systems" to be implemented, which includes guidance for health workers on how to safely and sustainably dispose of PPE and other health commodities after they have been used, noting that 30 percent of health care facilities are not equipped to handle existing waste loads.
That figure was around 60 percent in less developed countries, the agency said.
"It is absolutely vital to provide health workers with the right PPE. But it is also vital to ensure that it can be used safely without impacting on the surrounding environment," said WHO emergencies director Dr. Michael Ryan.
The risks associated with the lack of sufficient handling of such waste can lead to needle stick injuries, burns, and pathogenic microorganisms in health workers, and also impact communities living in areas near poorly managed waste disposal sites, increasing the risk of poor water quality and contaminated air when the waste is burned.
"Significant change at all levels, from the global to the hospital floor, in how we manage the health care waste stream is a basic requirement of climate-smart health care systems, which many countries committed to at the recent U.N. Climate Change Conference, and, of course, a healthy recovery from COVID-19 and preparedness for other health emergencies in the future," said Dr. Maria Neira, director of environment, climate change, and health at the WHO.
The authors of the report set out a series of recommendations to help stem the threat to human and environmental health, including using eco-friendly packaging and shipping, safe and reusable PPE, and recyclable or biodegradable materials.
They also called for more investment into ways to get rid of the waste without the need to burn it, such as autoclaves, a machine that is used to heat and destroy medical equipment, as well as investments in the recycling sector so that certain materials can be reused.
The WHO's report comes amid the Biden administration's whole-of-government effort to tackle the climate crisis via the Build Back Better (BBB) initiative, a program that would see Washington invest around $550 billion in renewable energy and climate change initiatives.
PLEASE DISABLE AD BLOCKER TO VIEW DISQUS COMMENTS
Ad Blocking software disables some of the functionality of our website, including our comments section for some browsers.