The Biden administration has dialed up its crackdown on so-called "ghost guns" by issuing guidance that basically expands the definition of what "readily converted" means in a new federal rule and making more do-it-yourself pistol parts subject to restrictions.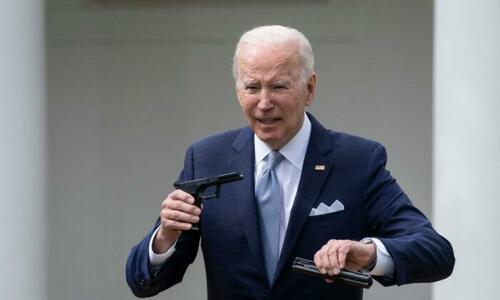 In an open letter to firearms dealers (pdf) dated Dec. 27, the Bureau of Alcohol, Tobacco, Firearms, and Explosives (ATF) told firearm vendors that nearly-complete handgun frames or receivers—basically the pistol grip and firing mechanism—will be treated the same as fully completed firearms.
Related Articles:
Today will be a big day for the Biden administration as the long-awaited rule on "ghost guns" will be formally revealed by the president. There's also word a new nominee to lead the Bureau of Alcohol, Tobacco, Firearms, and Explosives (ATF) will be announced.
If you're familiar with 3D printed firearms or 80% receivers, a company that may sound very familiar to you is Defense Distributed. The Austin, Texas-based company was the first to distribute 3D files for their Liberator handgun, empowering anyone with a 3D printer to assemble a firearm privately in their home. 
It's come to our attention that German magazine Der Spiegel reports the inventor of the rapid-fire 3D-printed gun that could be entirely printed at home has passed away.
Joe Biden promised to do it and he has finally delivered. Today, the cognitively declining President of the United States signed a number of Executive Orders allegedly designed to "curb gun violence" but actually designed to destroy the Second Amendment and the Bill of Rights.
President Joe Biden's administration is taking action to stop the proliferation of so-called ghost guns and push states to adopt "red flag" legislation.
Less than a week after President-elect Joe Biden on Jan. 8 promised to "defeat" the National Rifle Association while he's in office, the organization said in a statement tonight that it has filed bankruptcy petitions in U.S. court as part of a restructuring plan.
Unserialized 80% lower receivers for firearms purchased online as "ghost gun kits" can be milled at home with no specialized skills required. In a few hours, anyone, with the right tools and the upper receiver and other internal parts, can have a fully operational gun that the government cannot track.
The one-two punch of the Wuhan Coronavirus explosion, and the civil unrest of early 2020, led to an unprecedented growth in firearms ownership in America. All told, there were about two million firearms sold in the month of March 2020 alone. Between March and July, an additional three million were sold, with about half of those happening in the month of June.
A 16-year-old boy who opened fire at his Southern California high school, killing two classmates and wounding three others before shooting himself in the head, used a "ghost gun" built from parts, the local sheriff said on Thursday.
PLEASE DISABLE AD BLOCKER TO VIEW DISQUS COMMENTS
Ad Blocking software disables some of the functionality of our website, including our comments section for some browsers.