Brazil is facing a wave of censorship, targeted towards politicians and commentators that have shown support for President Jair Bolsonaro.
Several targets have had their social media accounts censored in Brazil following a censorship court order from Alexandre de Moraes, president of the Superior Electoral Court and justice of the Supreme Federal Court. De Moraes is known for a string of such censorship orders and for pressuring social media platforms to block politicians and commentators.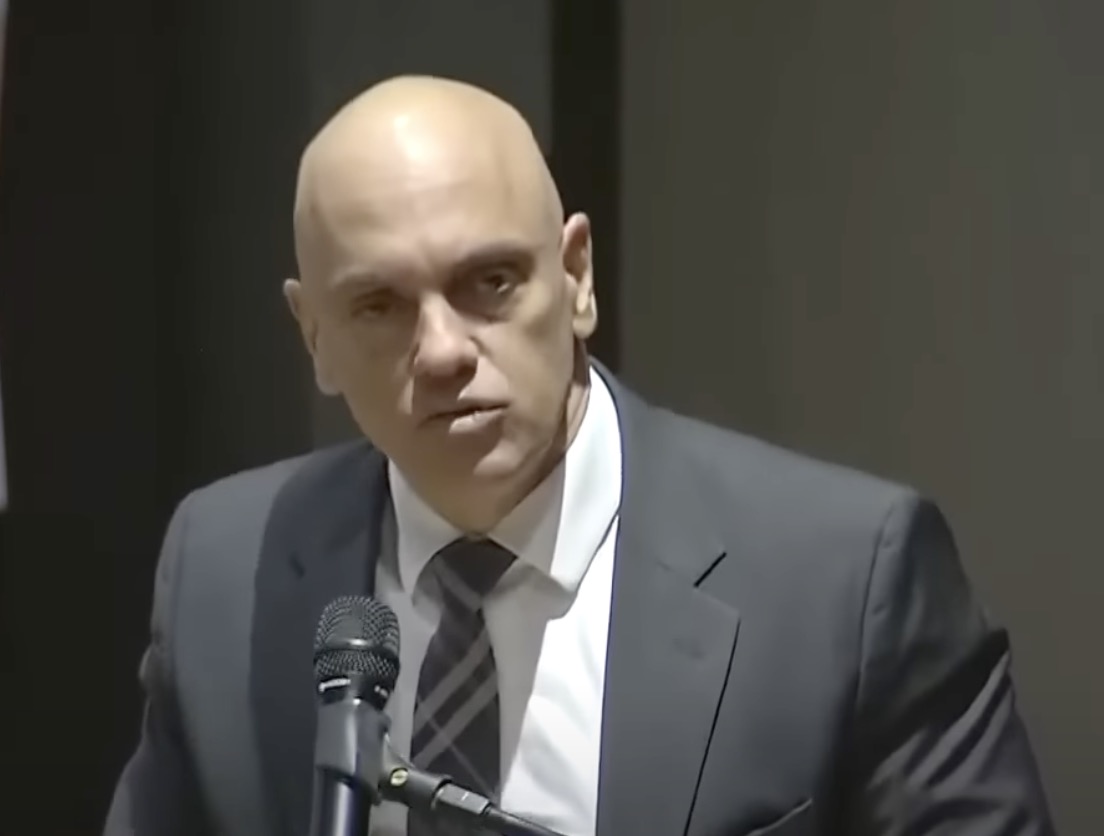 Brazilian commentator and podcaster Monark, whose official name is Bruno Aiub, and Federal Deputy Nikolas Ferreira were among those targeted and their accounts were "withheld," the term Twitter uses when it suspends an account in response to a court order.
The accounts can still be viewed in other countries, or from within Brazil with the use of a VPN.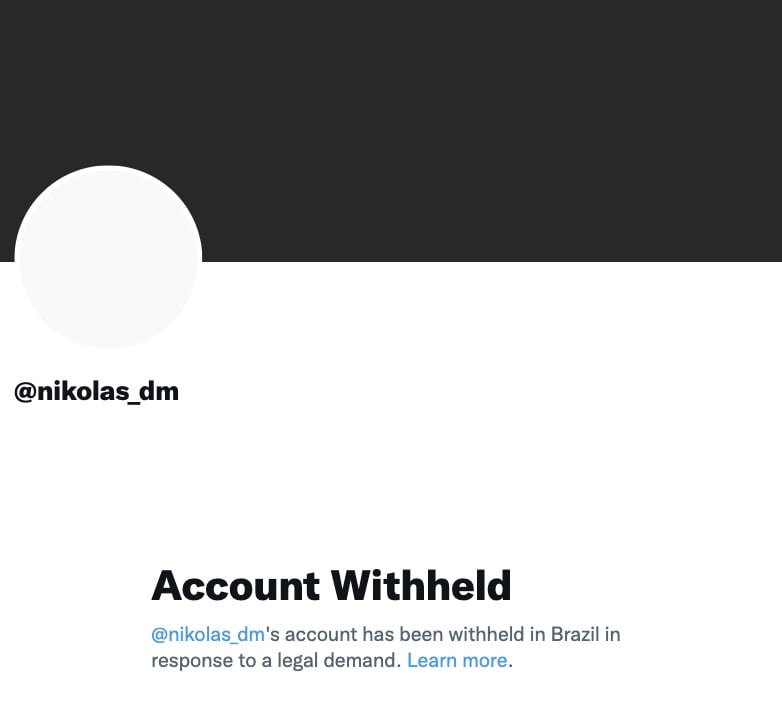 Ferreira is a staunch Bolsonaro supporter and Monark has praised but also criticized some aspects of Bolsonaro's politics and says he refuses to push any agenda.
Ferreira has 2 million followers and Monark had 1.4 million followers on Twitter.
Ferreira's Instagram, Facebook, and TikTok accounts have also been blocked. He also had his accounts blocked during during the election cycle in 2022, accused of spreading "misinformation" is his support of Bolsonaro.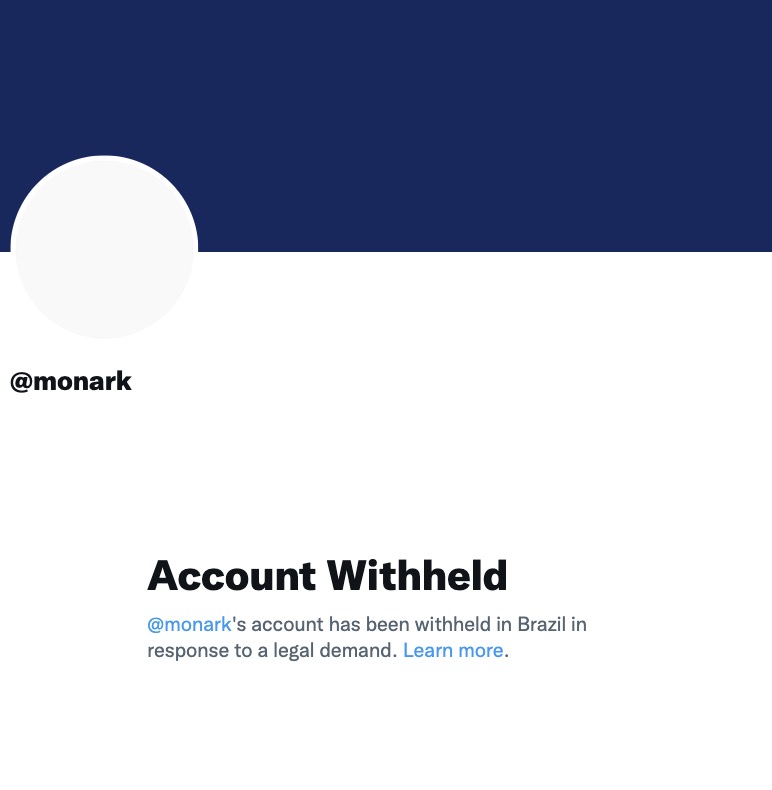 In November, Monark's YouTube account was also censored following a decision by the Superior Electoral Court (TSE).
At the time, Monark said de Moraes was acting "like a dictator."
Journalist Glenn Greenwald shared translated details of the censorship order on his Rumble show System Update on January 13th, showing that Facebook, Tumble, Telegram, TikTok, Twitter, and YouTube all received censorship orders.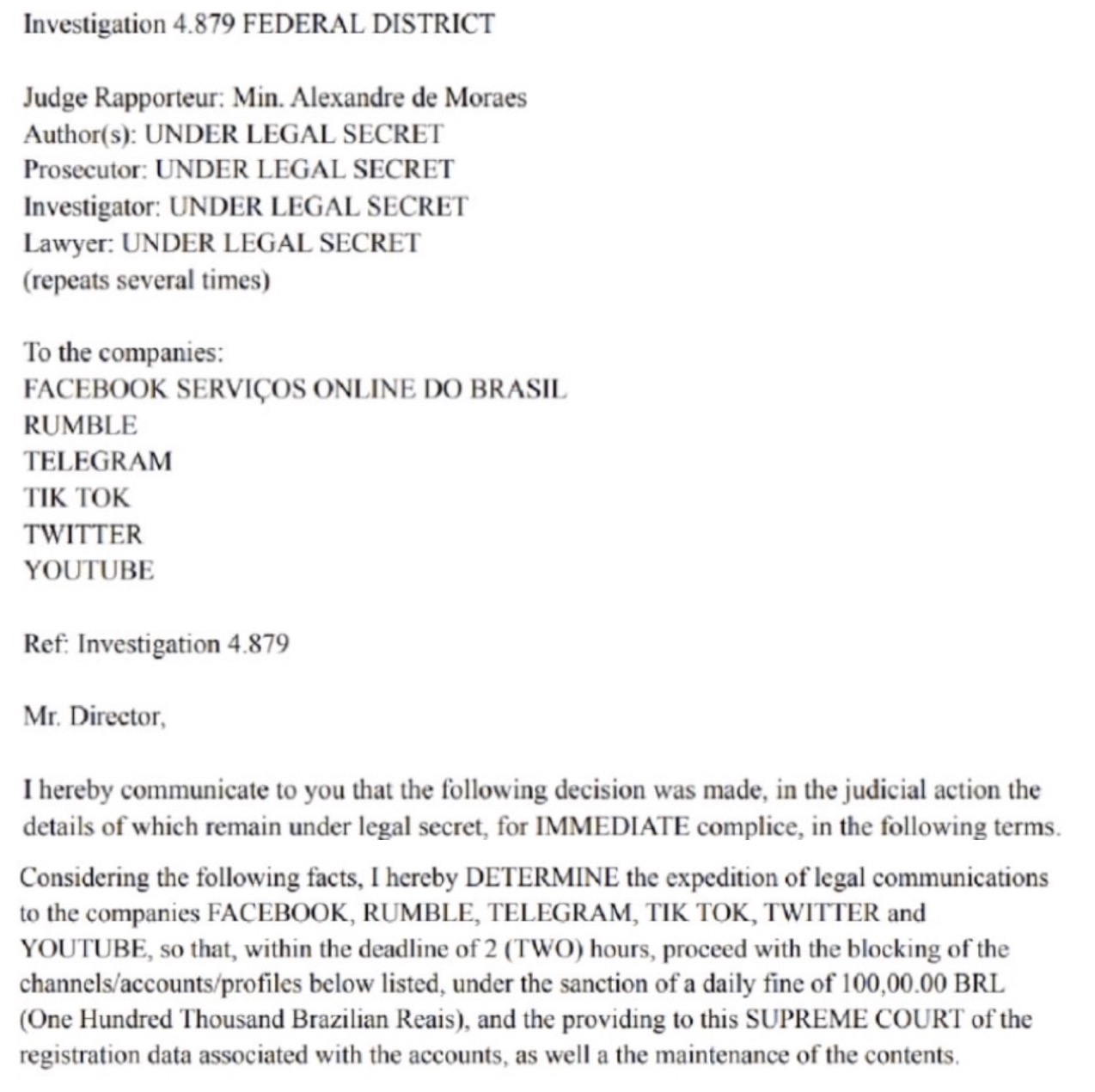 Speaking to Greenwald, Monark said that when his channel gets censored by a court order in the country, he isn't given any information about it, or how to appeal, and has now way of defending himself against such orders.
"My channel was censored months ago and in that process I didn't have access to any information so I believe in this new process I will not have any information from the government, and no ability to defend myself," Monark said to Greenwald.
"My lawyers cannot find any information that help me to defend my case. I don't even know what I'm being accused of. This is very unusual. This is not the correct legal process."
"Do you have any idea of what laws you've broken? Have you ever been told by Brazilian judges or the Brazilian police, or any other Brazilian authorities…in the last couple of months, that you are breaking laws, or are in violation of laws, or are in jeopardy of being prosecuted?" Greenwald asked Monark.
"No, actually I don't know of any law that can prohibit, that can punish me for what I have said in the past months. I never said anything that incites violence, I never did support any type of coup or any type of military intervention. Actually, I was always vocal against it. I believe we can fix this situation in the law, with political activism, and I do not believe in violence in any form."
José Medeiros, the Federal Deputy of the Brazilian state of Mato Grosso, was another of those who had his Instagram and Twitter accounts blocked.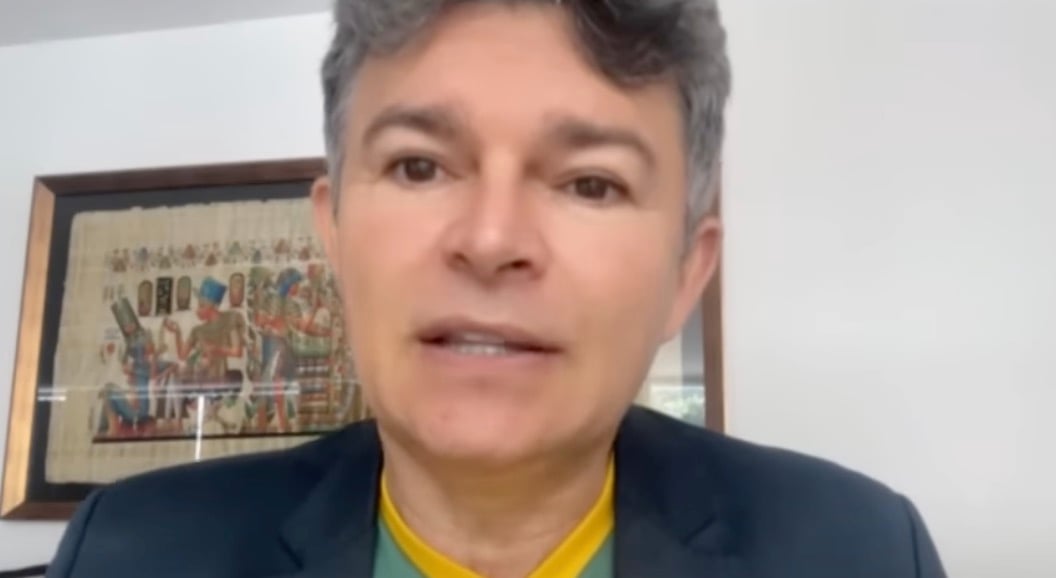 Medeiros, who is considered a prominent supporter of former president Jair Bolosnaro in Mato Grosso, was re-elected as a federal deputy in the November election. On Twitter, he has over 195,000 followers.
His Twitter account displays the message that the account "has been withheld in Brazil in response to a legal demand." Meta suspended his Instagram account, but his Facebook account is still active at the time of writing.
In a response to the suspensions on Twitter and Instagram, Medeiros posted three emojis of monkeys covering the mouth, eyes, and ears on his Facebook account.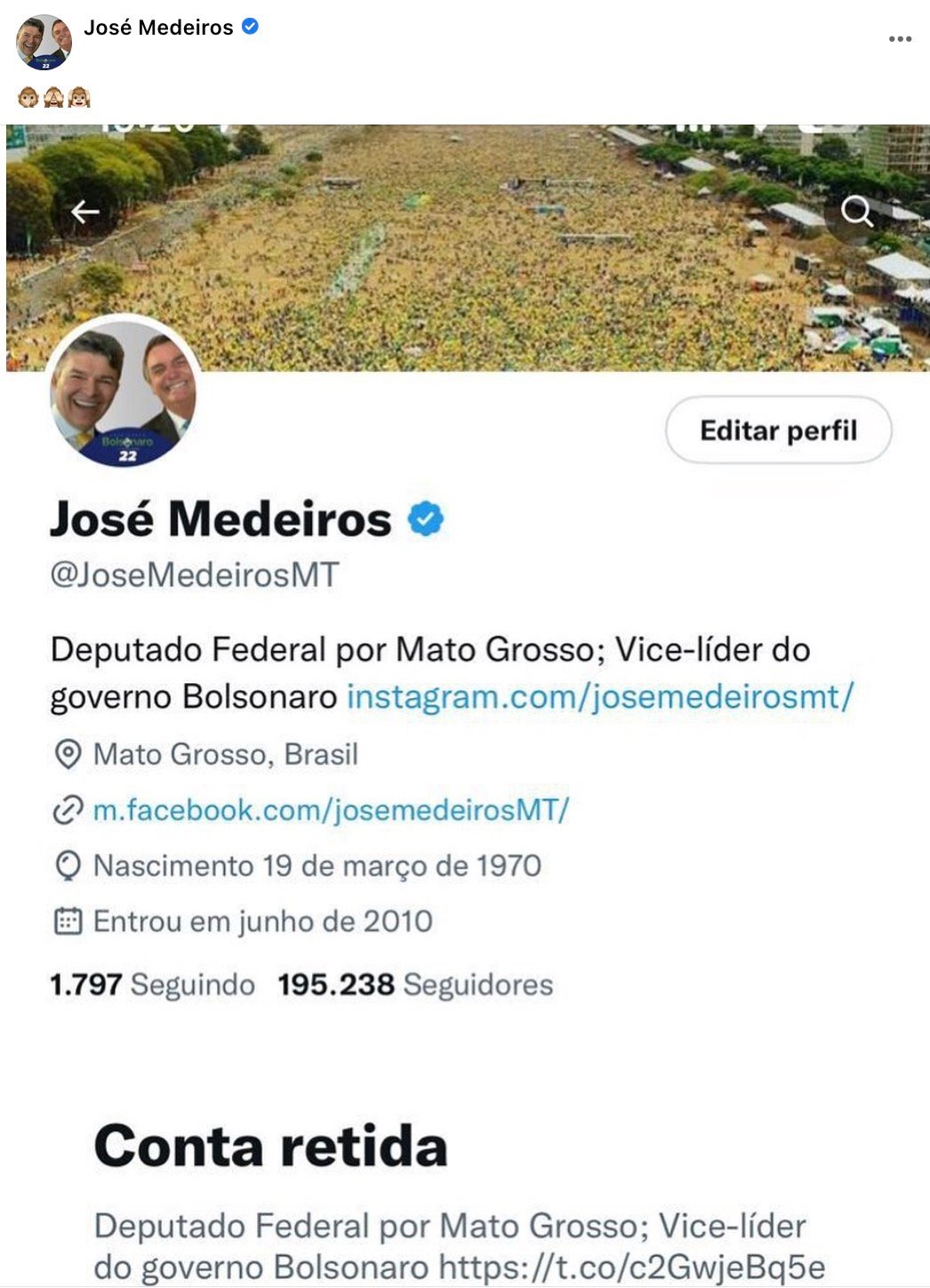 In an interview on Centro America's "Bom Dia Mato Grosso," Medeiros defended the Bolsonaro supporters who protested at government buildings in the capital Brasilia on Sunday, Jan. 8. During the protests, some protesters stormed Three Powers Plaza, home to the three branches of the Brazilian government. Medeiros said that the protesters should be analyzed individually; all of them should not be labeled "terrorists."
"It doesn't make sense that people who were there participating peacefully are labeled as terrorists for anti-democratic acts because someone went there and broke it. We need to individualize the behaviors," he said.
The senator of the Brazilian state of Acre, Alan Rick, also had his Twitter and Instagram accounts blocked by the order.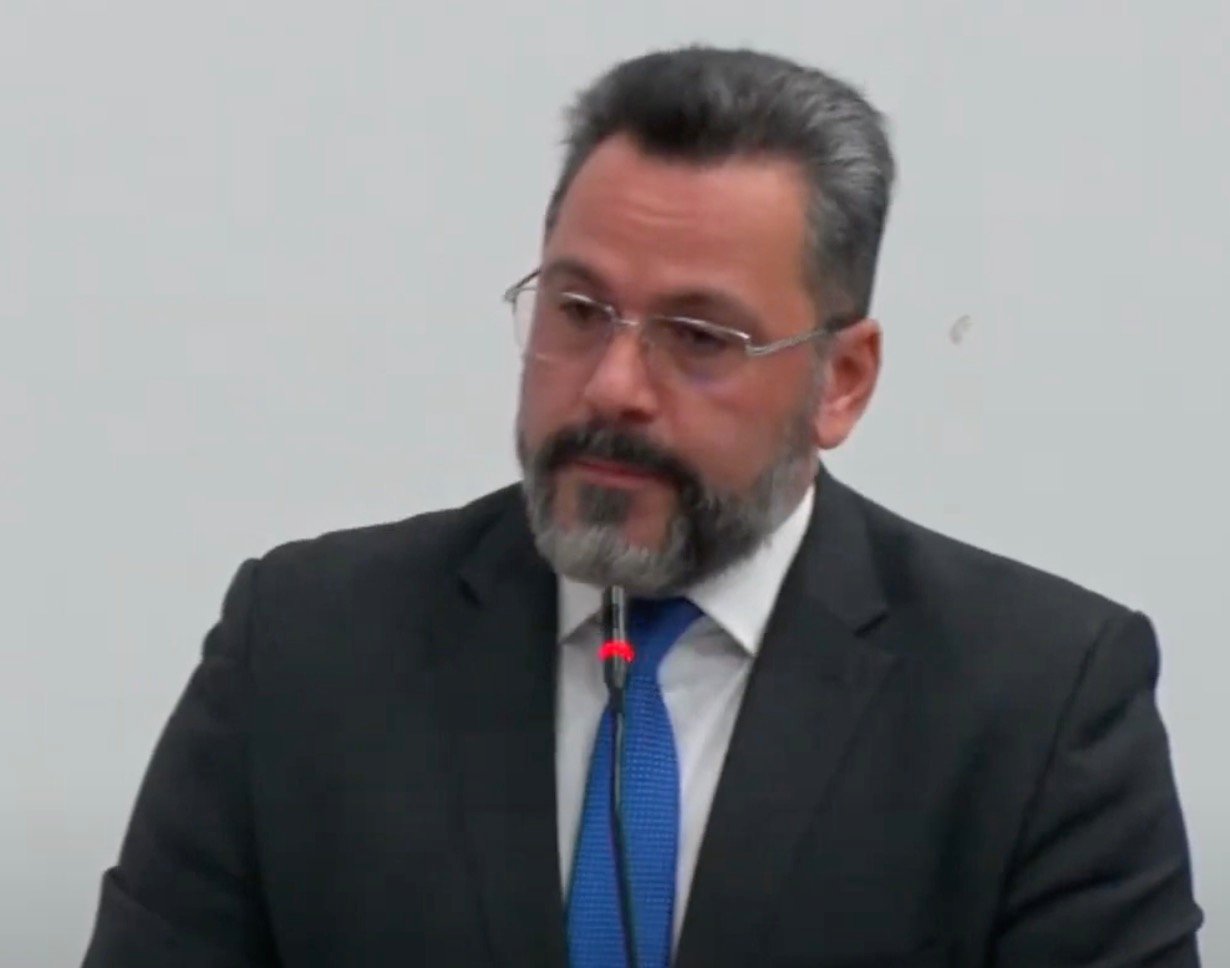 On Twitter, Rick's account "has been withheld in Brazil in response to a legal demand."
According to Rick's senator's advisory, his Instagram account was not blocked.
During the demonstrations by Bolsonaro supporters last Sunday, Rick tweeted that the protests were peaceful.
"They demonstrate the indignation for the election of a president condemned for corruption and that caused so much damage to the country," Rick's tweet read in part.