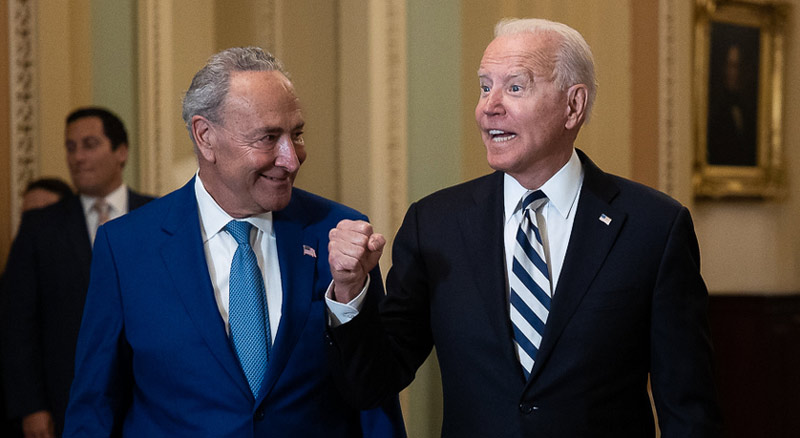 Democrat President Joe Biden and Senate Majority Leader Chuck Schumer (D-NY) were among several high-profile politicians who took cash from Silicon Valley Bank (SVB) affiliates before the financial institution dramatically collapsed last week.
Political action committees and individuals associated with the now-defunct SVB have donated extensively to leading politicians.
Silicon Valley Bank was one of the largest financial institutions in the United States when it collapsed last week.
It imploded on Friday as depositors rushed to withdraw their funds.
The SVB implosion marks the second-largest bank collapse in U.S. history.
The firm had sold several long-term government and corporate bonds at a loss to supply the deposits.
However, the Federal Deposit Insurance Corporation (FDIC) soon stepped in and assumed control of the company.
Before SVB's collapse, several top Democrats received large payouts from the company's affiliates.
Federal election data compiled by Open Secrets indicates that Sen. Mark Warner (D-VA) received $8,300 from Silicon Valley Bank affiliates.
The payments included $5,800 from individuals and $2,500 from the company's political action committee during the 2022 midterm election cycle.
Sen. Schumer also received $5,800 directly from Silicon Valley Bank CEO Greg Becker, according to more data from Open Secrets.
The payment was the maximum allowable individual contribution.
President Biden received a whopping $66,700 from Silicon Valley Bank affiliates in the 2020 election cycle.
Meanwhile, the DNC Services Corporation received $21,400.
Schumer donated all funds he has garnered from Silicon Valley Bank affiliates after the financial institution collapsed, according to a report from Fox News.
Similar actions were taken by Rep. Maxine Waters (D-CA), who recently served as chair of the House Financial Services Committee and received $2,500 from the political action committee in 2020.
Other lawmakers who received funds from Silicon Valley Bank affiliates include Sen. Raphael Warnock (D-GA), Rep. Josh Harder (D-CA), and Rep. Gregory Meeks (D-NY).
Each of the seven registered lobbyists employed by Silicon Valley Bank in 2022 and each of the eight employed in 2021 had previously held government positions, Open Secrets noted.
Franklin Square Group has opposed regulations established by the Dodd-Frank Wall Street Reform and Consumer Protection Act in the aftermath of the 2008 financial crisis.
The FDIC now manages the holdings still maintained by SVB.
California state regulators closed the bank on Friday to strengthen "public confidence" in the banking system by guaranteeing all deposits.
The bank offered services to nearly half of the venture-backed technology and healthcare firms in California.
Most customers of Silicon Valley Bank maintained deposits higher than the $250,000 limit insured by the FDIC.
Treasury Secretary Janet Yellen, Federal Reserve Chair Jerome Powell, and FDIC Chairman Martin Gruenberg said in a joint statement that the banking system "remains resilient and on a solid foundation, in large part due to reforms that were made after the financial crisis that ensured better safeguards for the banking industry."
They vowed that "no losses" associated with the collapse of Silicon Valley Bank would be "borne by the taxpayer."
PLEASE DISABLE AD BLOCKER TO VIEW DISQUS COMMENTS
Ad Blocking software disables some of the functionality of our website, including our comments section for some browsers.