The discovery last month of a Chinese COVID biolab in California shocked the nation, but likely came as no surprise to the state's Democrat governor, Gavin Newsom.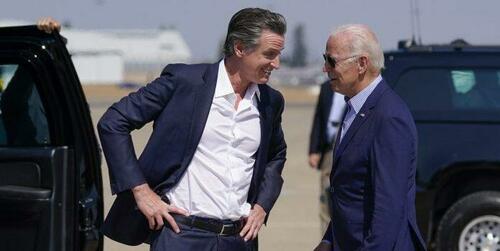 He helped fund it.
The now-notorious secret facility, which contained a massive stockpile of "infectious agents," including coronavirus, and nearly a thousand dead lab mice and vials of unidentified biological fluids, also likely came as no surprise to the Biden administration.
The FDA last year issued a recall warning for nearly 54,000 COVID rapid tests manufactured by the company that owned the lab.
Fresno County officials discovered the "unlicensed laboratory" in a warehouse owned by Prestige Biotech, which has ties to multiple Chinese pharmaceutical firms and a president who lives in China and can only be reached by email.
The company's CCP links extend to Barry Zhang, who is listed as Prestige BioTech's registered agent by the Nevada secretary of state. Zhang reportedly was a leader of the Chinese-American Society of CPAs and its work with China's United Front espionage and propaganda network.
The founder of the law firm representing Prestige BioTech, Michael M Lin, is reportedly "a regular sponsor of CCP's United Front events in Nevada."
Update of the illegal 🇨🇳 lab (Prestige) in CA.
2. HOW MUCH does it connects with CCP and CCP's espionage network (e.g. United Front)?
(A lot of information, I will post it gradually!)
2-1) As @MooreGovernor provided, Barry Zhang is listed as Prestige BioTech's Registered Agent… pic.twitter.com/bObLtXT7T5

— Dr. Li-Meng YAN (@DrLiMengYAN1) August 2, 2023
Prestige Biotech took over the lab from Universal Meditech, after that company went bankrupt following a series of fires. Universal Meditech, a company that also has strong CCP ties, received nearly $400,000 in tax credits from Newsom's Office of Business and Economic Development.
If you've been following the story of the illegal California lab run by a Chinese biotech firm, Prestige Biotech, discovered in Reedley, California...it gets even more interesting.

This company, NOT licensed to conduct business in California, received a $360,000 tax credit,… pic.twitter.com/i3km5teoC2

— Jenn Cheng (@THATJennCheng) August 5, 2023
Before going bankrupt, Universal Meditech was awarded its business license from the Newsom administration, "exactly one year to the day before Gov. Gavin Newsom's State of Emergency Order locking down the entire state over the COVID-19 virus."
Universal Meditech continued operations under its new owner Prestige Biotech, which didn't have a state business license and was only outed when someone noticed a garden hose illegally attached to the bio-lab's building.
The nearly 1,000 dead mice found at the Prestige Biotech lab, "were genetically engineered to catch and carry the Covid-19 virus," Wang Zhaolin, a spokesman for Prestige Biotech, told the San Joaquin Valley Sun.
"This is an unusual situation," said Nicole Zieba, a city official with the town of Reedley, where the lab was found.
"I've been in government for 25 years. I've never seen anything like this," Zieba told local news outlet KTLA. "There was a special room that was built housing about 1,000 white lab mice."
Those would be the same lab mice that "were genetically engineered to catch and carry the Covid-19 virus" housed in a secret warehouse owned by reported CCP United Front agents. The same company that manufactured 54,000 FDA-flagged COVID rapid tests and received hundreds of thousands of dollars from Newsom's office a year before he put California on a lockdown enforced by his and the Biden administration's tyrannical mandates.
Fauci's been caught covering for China- the same China that was just caught running a secret biolab in California, experimenting on infectious viruses.@RandPaul says Fauci has been caught admitting he lied to Congress, but the most partisan AG in the history of the US, Merrick… pic.twitter.com/bIrpHvlnxt

— Jesse Watters (@JesseBWatters) August 2, 2023
"Allowing a Chinese company to practice gain-of-function research on our shores is like inviting biological warfare into our backyard," said Rep. Mark Green, R-Tenn., who chairs the House Homeland Security Committee.
Based on legal filings, business reports and court documents, it appears that the CCP's United Front accepted the invitation. Meanwhile, with his entourage of CCP connections funded by his administration in line, Newsom reportedly is raising millions to back a potential 2024 presidential run, even as he continues to publicly back Biden.